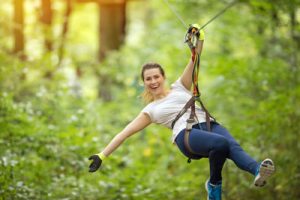 Corporate retreats are an opportunity to bond with your co-workers, strengthen professional relationships, and develop a team that is able to work together to accomplish business objectives. We love hosting corporate retreats here at Chetola Resort at Blowing Rock because we have so many fun recreational activities available for large groups. When you book your reservation at our resort, we encourage you to also incorporate some of the following activities into your day:
Fly fishing–We offer guided fly fishing trips that are sure to make your corporate retreat one to remember. Commune with nature, learn more about the sport of fishing, and enjoy the beautiful views that surround our resort while bonding with your team.
Clay pigeon shooting–Experience the thrill of clay pigeon shooting at our gun range. The Chetola Sporting Reserve provides quality firearms and safety equipment, and each session typically lasts between two and two-and-a-half hours.
Zip lining–This exhilarating outdoor adventure brings you into the heart of the mountains! Travel across 140 acres of wilderness on a zip line designed for fun and your complete safety.
Golf — Nothing says "corporate retreat" like a round of golf. Gather up your team and spend a few hours out at the elegant Hound Ears Club golf course, which is just a short drive from our resort.
We make corporate retreats a true adventure! To make your reservation or to find out more about the many recreational activities we offer for large groups, give us a call today.