Top 10 Walks from Chetola Lodge to Maintain Your Wellness While Visiting Blowing Rock
For many of us, we dread the idea of exercising while on vacation, however, it is easy to find a balance between a total "haven of rest" and an epic, heart-pounding adventure to the mountains. Because there are so many places to explore within walking distance of Chetola Resort, we have come up with a top 10 list of enjoyable walks to get outside, breathe in some fresh mountain air, and feel good about yourself. We have even included a range for the number of steps (since we all have different strides) from the lobby in the Lodge to the destination. So, for those looking to walk 5,000, 10,000, or even 20,000 steps to earn that extra dessert from Timberlake's, we have you covered. The following are in no particular order, however, we hope these will encourage you to get outside!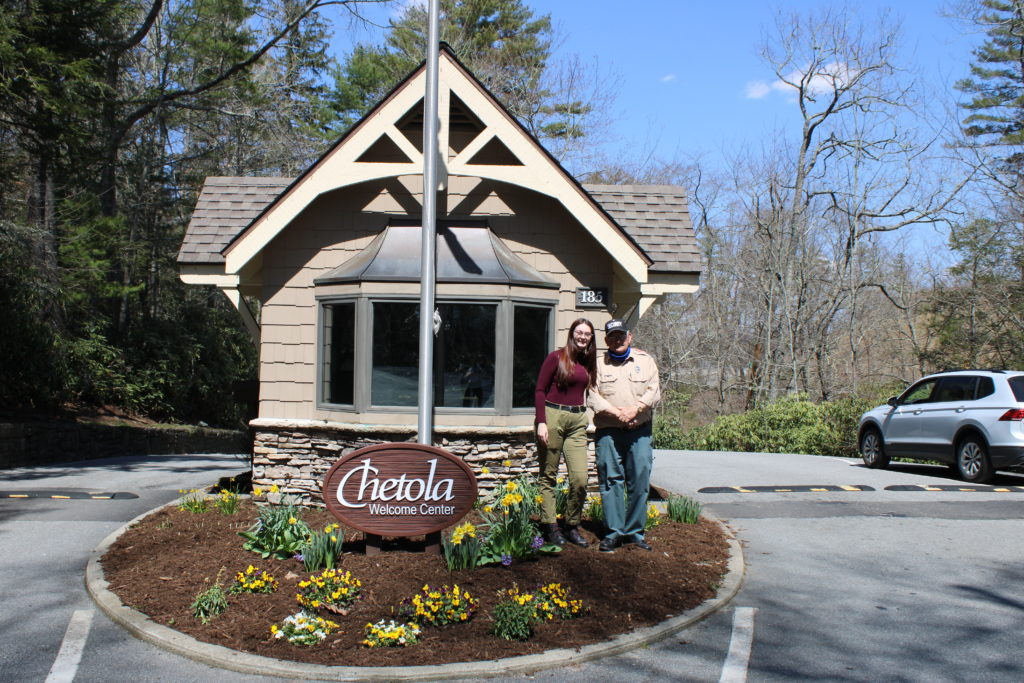 Chetola Guard House/ Welcome Gate (1750-1800 steps)
This will take you around a large area of Chetola Lake, past ducks, swans, and geese, as well as through the grounds of Chetola Resort. If you are looking for a nice, leisurely walk after dinner or first thing in the morning, this is a great option. While passing by the lake, you will likely see other guests fishing, relaxing in the Adirondack chairs, and during the warm season, guests enjoy paddleboats, canoeing, or stand-up boards. For those looking for a little more action, continue past the gate and turn right to go into the downtown village of Blowing Rock.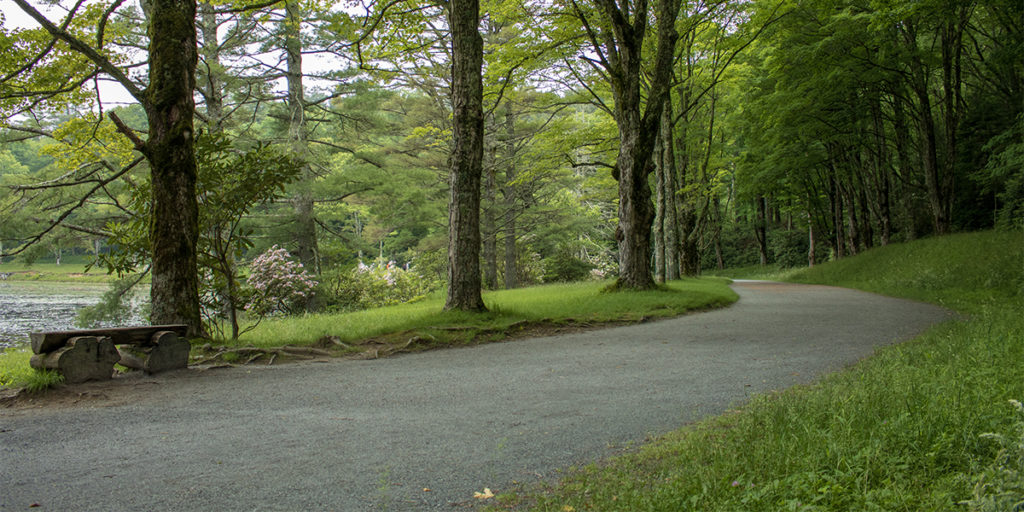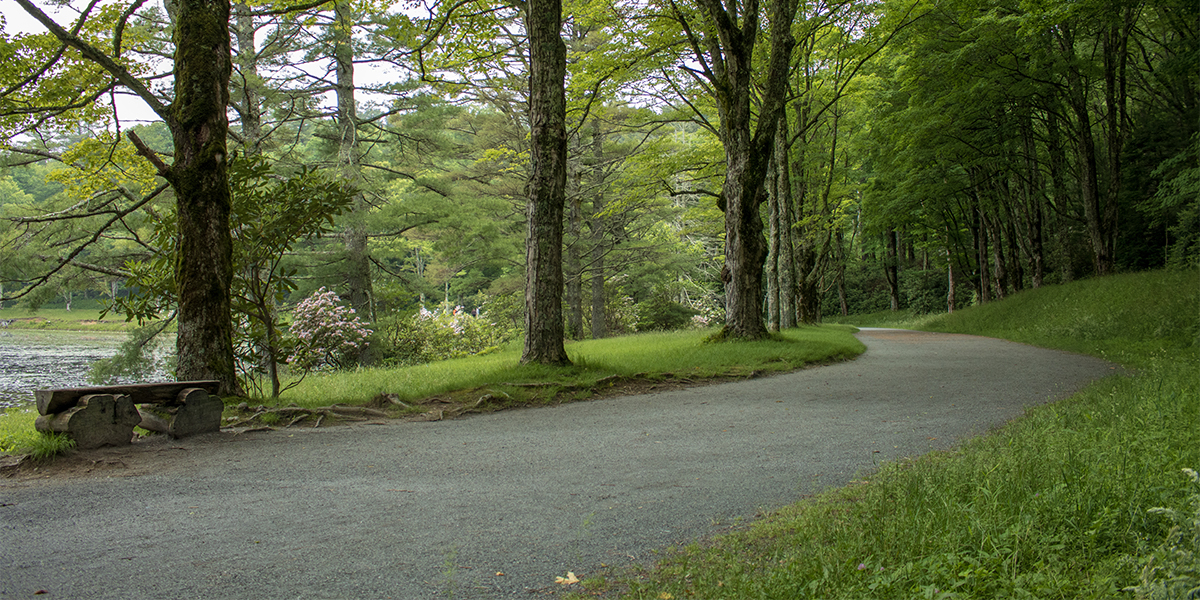 Bass Lake Loop in Moses Cone National Memorial Park (4000-5000 steps)
Kids In Parks and Chetola Resort have partnered to create the Chetola Resort Bass Lake Track Trail to encourage kids to get outside. This 2-mile hike is slightly uphill until you reach the Moses Cone Park boundary and then is a fairly easy and flat stroll through the woods and around beautiful Bass Lake. There are picnic benches to stop along the way. Also, the Cone Manor is visible from several areas around the Lake. If you have 45 minutes to an hour (longer with the kiddos, as they enjoy finding bugs and sticks along the way), this is a great option to reach that 5,000 step goal!
Broyhill Park in Blowing Rock (5400-5800 steps)
If you feel like combining a trip to downtown Blowing Rock with a visit to a beautiful park, then Broyhill offers that experience. You can easily spend 2-3 hours between walking around downtown and making your way over to Broyhill Park. There are walking trails, Mayview Lake, and even a pool in the summer for kids! Regardless of the season, if you are looking for some real steps, while enjoying all that Blowing Rock has to offer, this is a fantastic option. We recommend either stopping for lunch at Hellbender, a coffee at Bald Guy, or a sweet treat at Blue Deer Cookies along the way!
*Note that the steps on this can vary, as there are so many ways to enjoy this walk!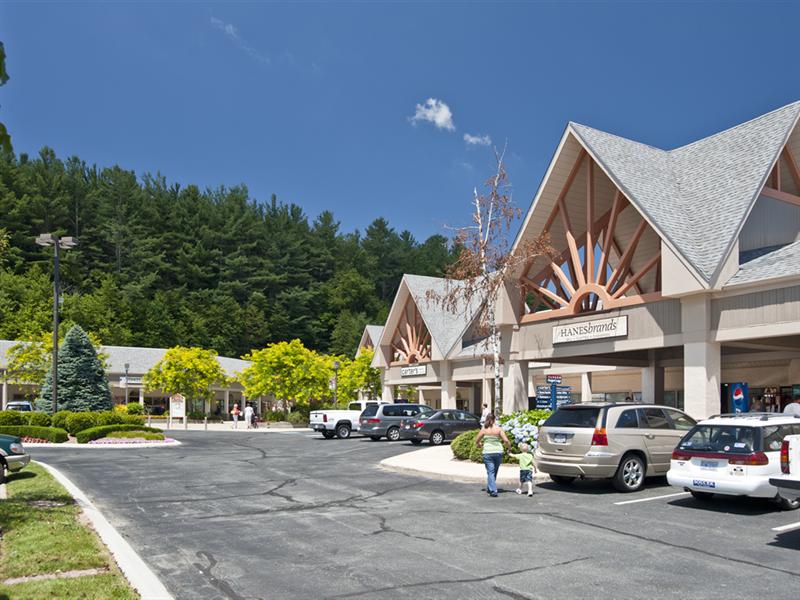 Tanger Outlets (1400-1500 steps)
Whether you are checking out the shops or dining at one of the fun eateries, Tanger is the perfect hop, skip, and a jump away from Chetola. There is a private entrance through the northeast side of the property, just past the dam and waterfall. During the summer, there is live music, as well as an artisan market the first Friday of each month. Columbia Sportswear is coming June 2021, which may also be the perfect place to upgrade your fitness workout attire.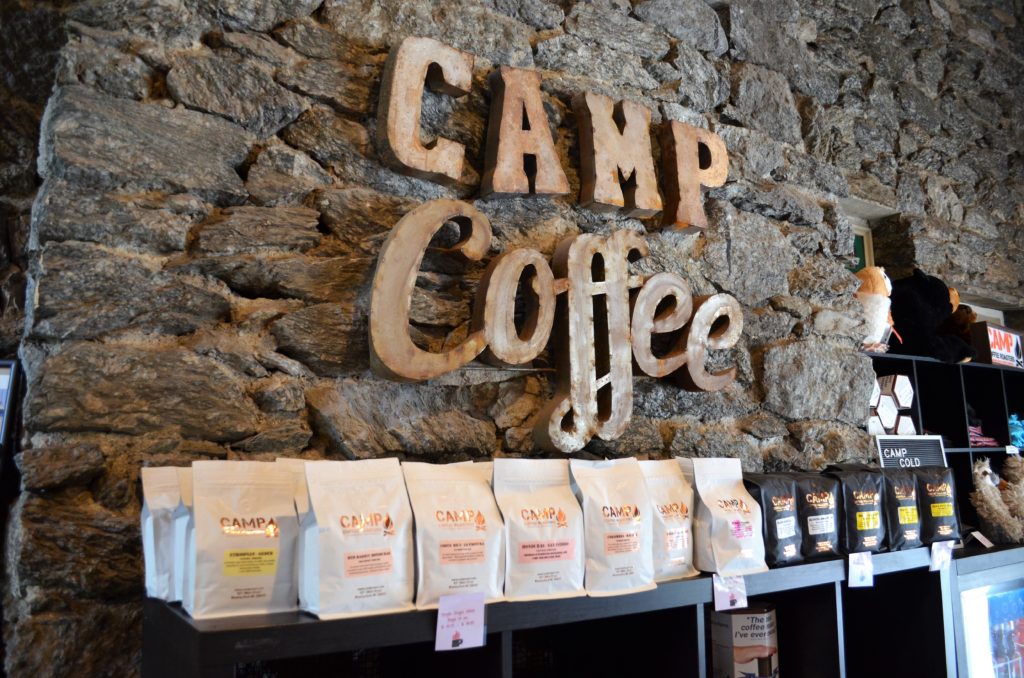 Camp Coffee in downtown Blowing Rock (2400-2650 steps)
If you wake up one morning and have a desire for exercise and your favorite coffee drink, walk around Chetola Lake and out of the property towards Camp Coffee (turn right towards downtown Blowing Rock). This fairly short walk takes you to one of Blowing Rock's exquisite coffee shops and soon-to-be donut places! The people are friendly, there is a fun outdoorsy vibe, outdoor seating, great coffee drinks and treats. We like their Nitro on tap for a smooth, creamy cold coffee beverage with a boost to start your day! For additional steps, keep walking along Main Street, as there are several boutique shops, restaurants, and a couple of Parks (Blowing Rock City Park and Broyhill Park).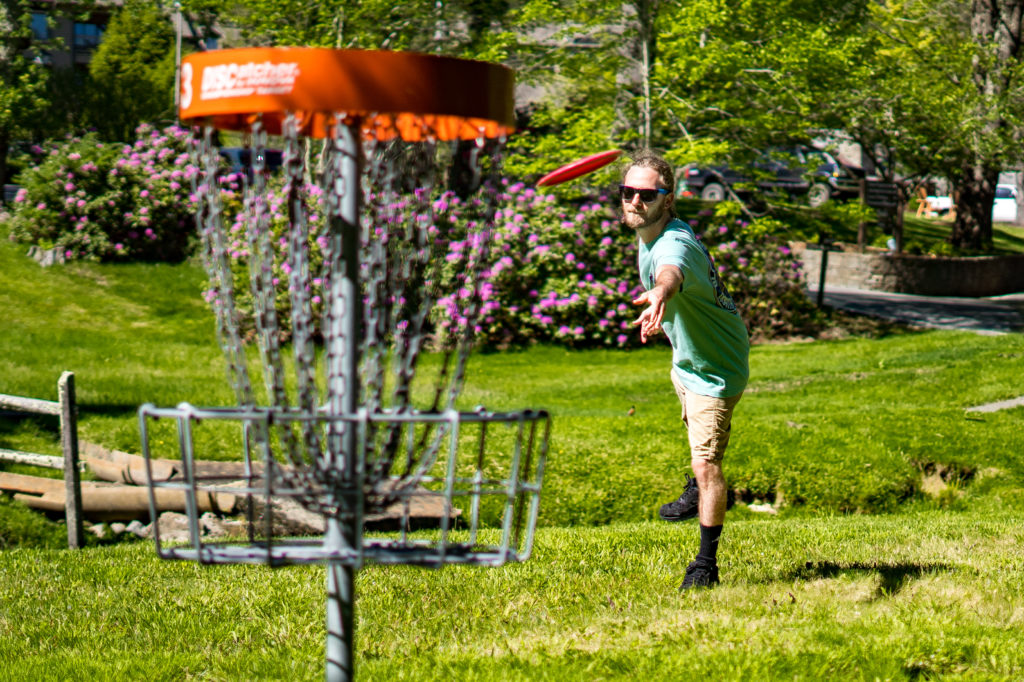 Walk a Round of Frisbee Golf (2000-2500 steps)
Did you know that Chetola has its own private disc golf course? All guests of Chetola have access to this course throughout their stay. Simply walk to our Rec center for maps, discs, and a score card. Don't forget to visit the new Chetola Retail shop for grab & go snacks and drinks. This 9-hole course winds throughout the property, along creeks, across grassy fields, and into the woods for beginner to intermediate play. There are a few picnic areas around to enjoy lunch or stop to enjoy nature. This is certainly one of the more exciting ways to get your steps in while visiting!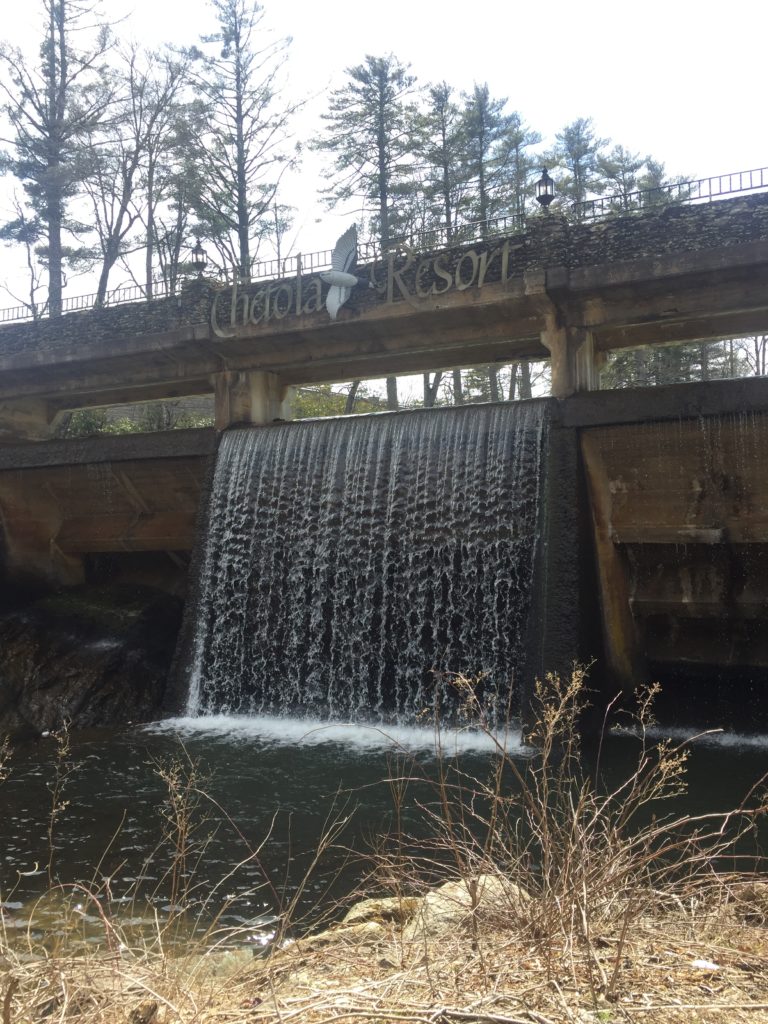 Chetola Dam/ Greenway Entrance (700-800 steps)
For a short, leisurely stroll, head out of the Lodge and turn left towards Tanger Outlets. Once you come to the bottom of a small hill, you will see the bridge to your right. There is a new viewing deck below, along with a nice picnic spot. The view from the bridge (top of dam) is beautiful, looking back towards the lake and resort. This is one of the original entrances to Chetola Resort, built by Luther Snyder in the 1920's.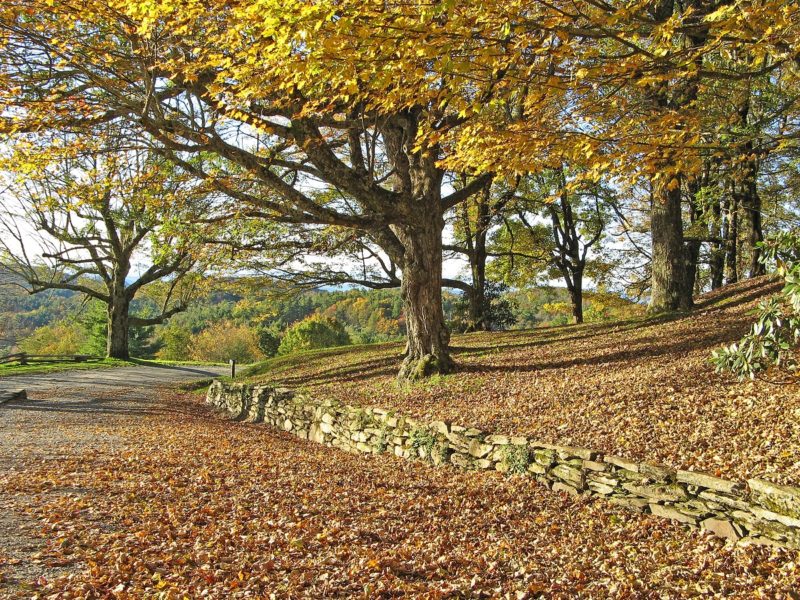 Apple Barn in Moses Cone (via the Maze trail back to Bass Lake and to Chetola (6500 to 6750 steps))
If you are looking for a quiet trail to stretch your legs, the path up to the Historic Apple Barn is perfect. From Chetola Resort, head up towards the tennis courts and then follow the Chetola Resort Bass Lake Track Trail until you reach the Maze Trail. From there, go right (left goes to Bass Lake) and follow until you reach the Apple Barn. After enjoying a picnic or snack on the porch, follow signs back to Bass Lake (for a longer trip, just head back the way you came) and you will come to the Lake. If you are feeling ambitious, feel free to mosey around the entire lake, or head back to the Resort. This is a great option for those looking for a trail in the woods and some options to venture around the Moses Cone Trail System.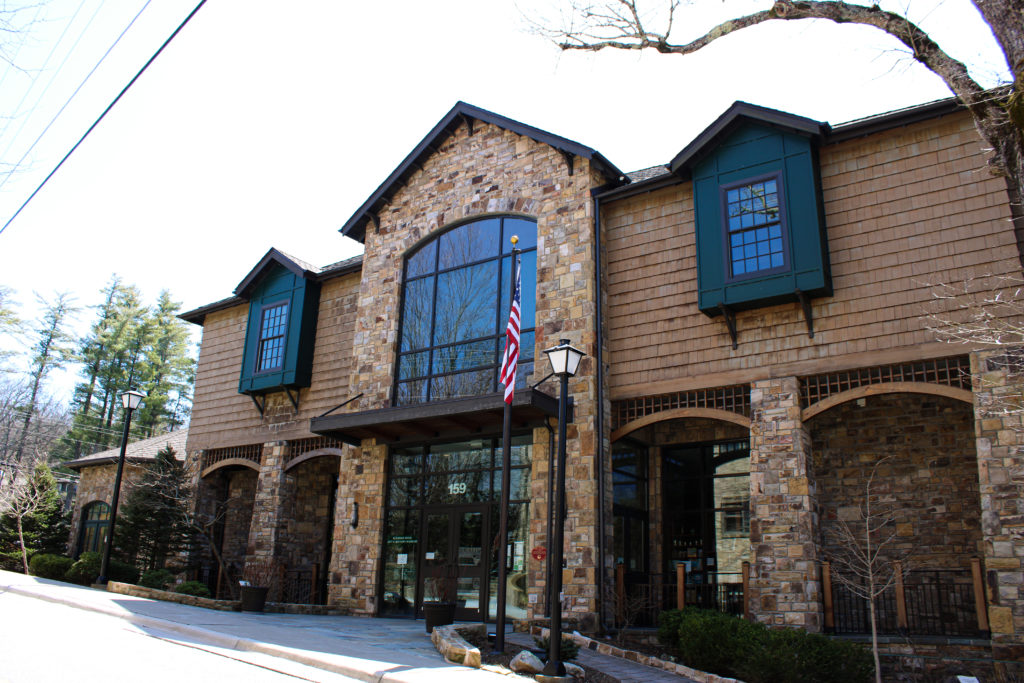 BRAHM- Blowing Rock Art & History Museum (5750-5900 steps)
Celebrating 10 years in 2021, BRAHM provides cultural offerings for the local community. There are ongoing exhibits on history & art, as well as a variety of programs throughout the year. Admission is free for everyone. There are also seasonal events for all ages, a special BRAHM Kids Program, art classes, fundraising, and a gift shop. For guests of Chetola, we have BRAHM backpacks for the kiddos in our retail shop with art and nature themes, offering a fun, learning activity set for ages 6 and up. All proceeds from the backpacks support BRAHM.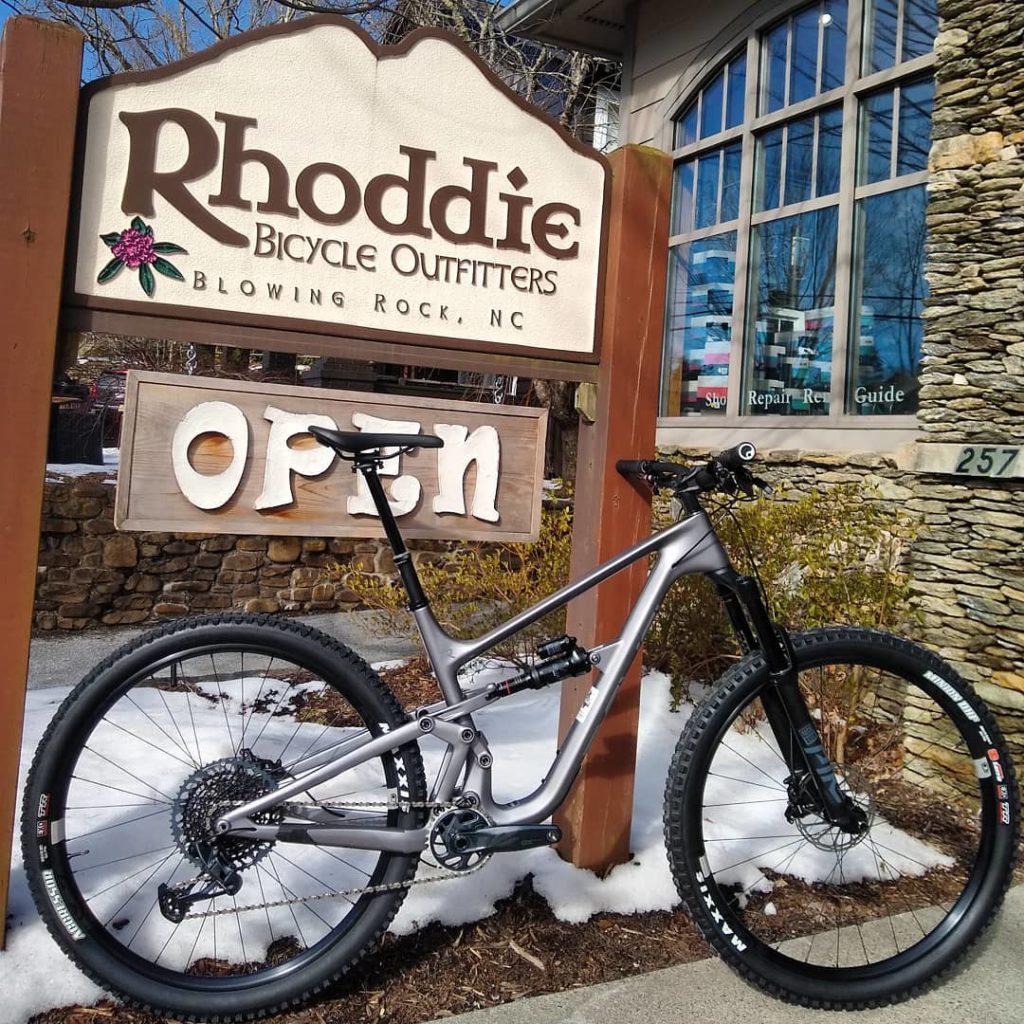 Rhoddie Bicycle Outfitters (3550-3650 steps- via Ransom Street)
Rhoddie is named after one of the most iconic plants of the Appalachians, the Rhododendron (from www.rhoddiebicycleoutfitters.com). Owners, Brian and Allison Sain, started the bike shop to be able to share their passion with locals and guests by connecting people to the many cycling opportunities in the area. They offer bike sales and service, as well as a plethora of information and guidance on where to bike in the High Country. For those looking for some inspiration in spending time outdoors, look no further than Rhoddie Bicycle!