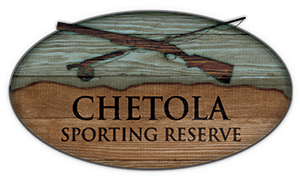 On 67 acres of rural rolling terrain, among towering pines, red maples, and mighty oaks, and surrounded by the incredible Blue Ridge vistas in the heart of the gated Blue Ridge Mountain Club, lies Chetola Sporting Reserve. The private club, open exclusively to those with annual memberships or lodging guests at Chetola Resort, features an array of outdoor sportsman activities including gun, rifle and pistol ranges, sporting clay course, 5-stand clay station, archery range, and fly fishing. All activities are led by NRA-certified instructors specialized in a particular discipline, with customized Churchill-style instruction based on each guest's proficiencies and needs. Members of the Sporting Reserve will enjoy annual members-only events and competitions, as well as the opportunity to purchase Chetola Club memberships for Spa and Recreation Center access.
This unique sporting club is unlike anything else in the High Country, with its accessibility to the Blue Ridge Parkway, Blue Ridge Mountain Club ATV trails, abundant wildlife, catch-and-release fishing, miles of untouched forest, and endless adventure. Both the course and clubhouse are handicapped accessible. Set your sights on us and be part of the Chetola Sporting Reserve.
Reservations must be made 24 hours in advance. 
Hours of Operation:
Wednesday: 11am-5pm
Thursday: 10am-5pm
Friday & Saturday: 10am-6pm
Sunday: Noon-5pm
828.264.6200
Amenities
Chetola Resort Owned & Operated
Private - Exclusive Club Membership
67 Acres of Pristine Wooded Land
National Sporting Clay Association-Accredited Instruction
Beretta and Caeser Guerini Shotguns
5 Stand Clay Station
13 Station Sporting Clay Course
Pistol & Rifle Range
Archery Range
Orvis Endorsed Lodge & Guides
Fly Fishing Float and Wade Trips
Public and Private Waters
Private Events & Competitions
Corporate and Executive Retreats
Family Gatherings



The Clubhouse
A 1,784-square-foot clubhouse is the property's classic centerpiece, outfitted with Bob Timberlake's elegantly rustic furniture, artwork and accessories. Relax by the stone fireplace with a game of backgammon, partake in a fine selection of food and beverages at the clubhouse bar, or unwind on the observation deck of the adjacent five-stand. The clubhouse, which can seat up to 40 people, and the adjacent tented area, ideal for up to 150 people, are available to rent and perfect for team building activities, corporate retreats, celebrations and bridal party outings (contact Chetola Resort Marketing at 828-295-5514), with all catering provided by Timberlake's Restaurant.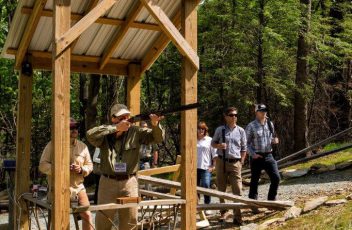 Sporting Clay Course
NRA-certified instructors lead guests through this 20-acre course of 13 stations on a 67-acre outdoor adventure facility. Participants move steadily through each station, all of which are outfitted with the high performance Promatic clay throwers simulating various game birds and wildlife. Choose from finely crafted Caesar Guerini and Beretta shotguns, or bring your own guns if preferred (must be approved by Sporting Reserve staff). All ammo and clays must be purchased from the Sporting Reserve. Full and half-course options offered. Must be 12 years old to participate.
6 stations: $60pp
13 stations: $120pp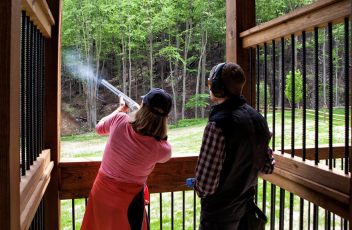 5 Stand Clay Station
An action-packed activity ideal for groups and special events. The 5 stand, named for its side-by-side stations accommodating up to five shooters at the same time, is a cross between trap, skeet and sporting clays with the advantage of accelerated pace and diverse crossing, flying and dropping patterns. Choose from finely crafted Caesar Guerini and Beretta shotguns, or bring your own guns (which must be approved by Sporting Reserve staff). All ammo and clays must be purchased from the Sporting Reserve. Must be 12 years old to participate.
Single guest
100 clays and shells: $120pp
50 clays and shells: $60pp
Group (1-5 ppl) 
150 shots: $295, includes an NSCA Level 1 instructor
Additional 150 clays and shells: $150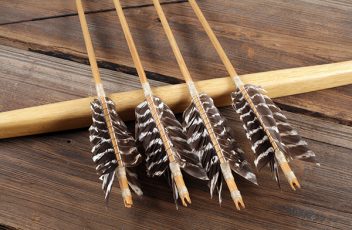 Archery
For ages 6 and older. Our staff offers beginner instruction, focusing on form, function and safety.  The course -- optimized for children, families and corporate groups – is outfitted with five, 10 and 20-yard targets. Brand name equipment from Diamond, Bear, and October Mountain Products includes traditional longbows as well as compound and wooden arrows , properly outfitted based on age, weight, arm length and pull strength. Individuals are also welcome to bring their own equipment and pay for range use only.
Rentals: $20+
60-Minute Instruction: $50 (1-5ppl)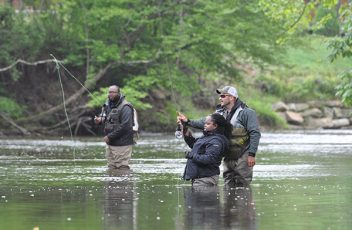 Fly Fishing Wade & Float Trips
Our professional Orvis endorsed guides will customize an unforgetable day on some of the most pristine rivers and streams in the High Country based on experience, current conditions of the waters and personal requests. Chetola offers both half and full-day wade and float trip adventures that provide the opportunity to land trophy trout, Brook Trout, Rainbow Trout, Wild Brown Trout and Smallmouth Bass on either private or public waters. Some locations are seasonal but our guides will be happy to accommodate guests in any weather as long as they deem it safe for both the guest and the ecosystem. Pricing varies based on location, number of people and length of trip. All professional trips are off site and do not require a membership or Chetola lodging. Complimentary catch-and-release fishing in a small pond on the Reserve (no license required).