**Please note that many of the condos have new images as of 2022, which may showcase upgrades or updates to the unit. The virtual tour may be helpful to view the layout of the condo, however, they may have been taken prior to these upgrades, so the tours may look different from the images. The images are the most recent representation of the individual unit**

Watauga Property Management (WPM) works exclusively with Chetola Resort to create great memories for all our guests. Only those in the WPM portfolio maintain the highest standards, including personal inspection after each visit. WPM provides 21 entertaining and many exclusive Chetola Resort amenities for all of our condominium guests.
When staying at Chetola Resort you will be provided with the best in customer service, including 24-hour guest serviceces, security, and a team dedicated to making your vacation rental the best it can be. Full access to the fitness center, heated indoor pool, tennis courts, Chetola Lake, Spa at Chetola, the Sporting Reserve and Clubhouse, and much more.  When you rent with Chetola and WPM, you are not just renting a house at the end of a driveway, you are getting our entire resort team dedicated to helping you and your family create special memories.
Choose from spacious, well-appointed 1, 2, 3 or 4-bedroom condominiums with a range of amenities. Great for families, groups, wedding guests, and retreats.
Our entire team can't wait to see you and your family here soon!




2 Bedroom Efficiency Condominium w/Master Suite
1 king bed, 1 queen bed, master bath with shower stall, bath off of living room has whirlpool tub and no shower, washer/dryer, efficiency kitchen, wood burning fireplace OR 1 queen bed, 2 twin beds, queen size sleeper sofa, master bath with whirlpool tub, bath off of living room has tub/shower, washer/dryer, efficiency kitchen, fireplace, *. Maximum occupancy: 4 (approx. 1,250 sq ft)

2 Bedroom Condominium w/Loft
1 king bed in master, 1 queen in second bedroom, 1 queen sleeper sofa upstairs in loft, 3 full baths, washer/dryer, full kitchen, fireplace, cathedral ceilings.* Whirlpool tub and standing shower in master bath. Maximum occupancy: 6 (approx. 1840 sq ft).

4 Bedroom Condominium
3 king beds, 2 twin beds, queen sleeper sofa, 4 full baths (3 with double whirlpool, 1 with single whirlpool), one half bath, full kitchen, washer/dryer, some units have 2 gas fireplaces, and some units have an extra den with large screen television and DVD. Maximum occupancy: 10 (approx. 3,000 sq ft.)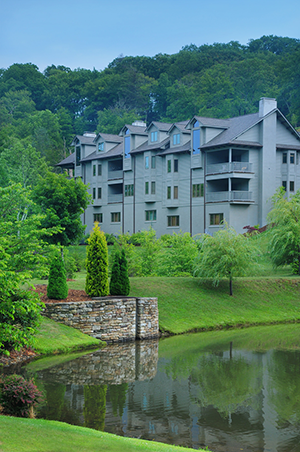 *Fireplaces are either gas or wood burning. (Firewood may be purchased at Front Desk.)
All of our condominium units are privately owned and fully furnished by the owners. An initial  supply of bed linens and towels are provided. Pack-n-Plays are available for a rental fee of $12.00 per day.
Condominiums are not handicap accessible.
---
Holidays and Weekends:
Two-night minimum stays are required year-round. Three-night minimum stays may be required during some holiday time periods and special events, and peak seasons of July, August, and October. Some weekends rates are higher in July, August, October, and holidays.
---
Condominium Policies:
CHECK-IN TIME IS 4:00 PM ; CHECK-OUT TIME IS 10:00 AM . NO PETS ARE PERMITTED in rental condominiums (however, we do welcome our furry companions in the Chetola Lodge, where they will be greeted with a Chetola bandana and fresh doggie treats). NO CAMPERS OR MOTORHOMES ARE PERMITTED ON THE PROPERTY WITHOUT PRIOR WRITTEN PERMISSION. Advance reservations are recommended. A fifty percent (50%) advance deposit made by Credit Card, a personal check or money order is required to confirm a reservation. The balance, plus local & state taxes, and a refundable security deposit is due upon check-in. Payment may be made by Cash, Traveler's Checks, American Express, Master Card, Visa, Discover Card, or personal check (with appropriate identification and a major credit card). Debit cards are not recommended.
---
Cancellation, Change, "No-Show," Early Departure
In the event of a cancellation, a refund of the advance deposit will be made provided the renter gives written notice twenty-one (21) days or more prior to the scheduled date of arrival. Any notice of cancellation less than twenty-one (21) days prior to the scheduled date of arrival will result in the forfeiture of one-half (1/2) of the advance deposit or $100.00 (whichever is greater). Any change of reservation will be subject to availability. There will be no refund for early departure. "No-Show" reservations will forfeit ALL deposits and reservation rights effective 9:00 AM the day following the scheduled arrival date. In the event of the sale or full time occupancy of the reserved unit by the owner, or if for any other reason the unit may become unsuitable for occupancy, Chetola Resort may provide the renter with a comparable substitute unit, without notice to the renter, and without liability of breach of contract. If Chetola Resort is unable to find a comparable substitute unit, Chetola Resort will be responsible only for refunding the deposit paid on the rental unit. Rates are subject to change without notice.
---
*Some rooms are equipped for the handicapped.
Advance reservations are recommended. Major credit cards are accepted for guaranteeing reservations. Prices above do not include state tax or occupancy tax. Payment made with cash, Mastercard, Visa, American Express, Discover Card, Traveler's Checks, or personal check (with proper identification and a major credit card.) Debit cards are accepted but not recommended. A Photo ID and a valid credit card is required at Check-In. Requests for date changes will be subject to availability. Rates are subject to change without notice. Services and amenities do not apply to group bookings.
Special Offers, Adventures, and Noteworthy Events