"... the barnwood textures and natural wood accents come together with a sense of authenticity. Stepping into a room, it feels as if the outdoors is following you inside." - Our State
Explore Chetola Resort at Blowing Rock, a 78-acre resort within walking distance of
the quaint mountain village of Blowing Rock and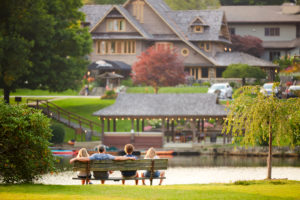 adjacent to a 3500-acre National Park nestled within the Blue Ridge Mountains of Western North Carolina.
We provide a peaceful escape for guests looking to disconnect from their busy lives and gain a closer connection to the natural world while enjoying cozy mountain lodging, upscale comfort food, awe-inspiring activities by day and relaxing hospitality at night which create memories worth sharing.
Accommodations
Chetola Resort offers a great selection of accommodations. Choose from our 42-room Lodge overlooking the Lake and Chetola grounds; the historic Bob Timberlake Inn, featuring furnishings by artist Bob Timberlake; and our spacious Condominiums with a range of amenities and views.