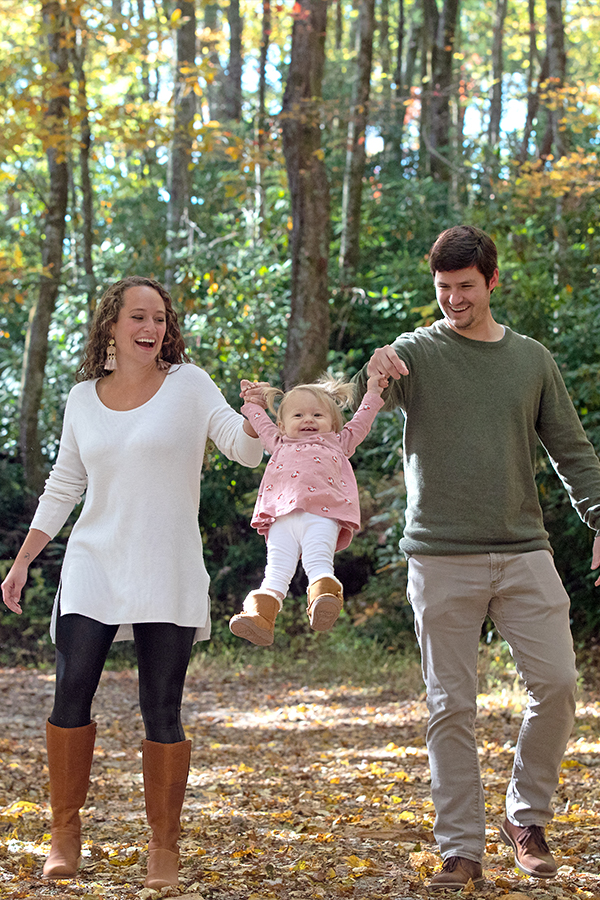 Interested in finding out more information? Call Chetola at 800-243-8653, or Click Here to email Chetola.
- 5 Hikes within 5 Miles of Chetola -
We're all about getting back to nature here at Chetola Resort. Whether you are in search of a new perspective or just need to stretch your legs after a long car ride: our staff are happy to direct you to the perfect trail for your needs. Adjacent to Pisgah National Forrest and Moses H. Cone Memorial Park, Chetola is central to some of the best hiking in the Blue Ridge. We've compiled a list of five of our favorite trails just moments from the resort. We challenge you to make the most of your stay by exploring the panoramic views, pristine waterfalls, and fresh mountain air that lie just around the corner.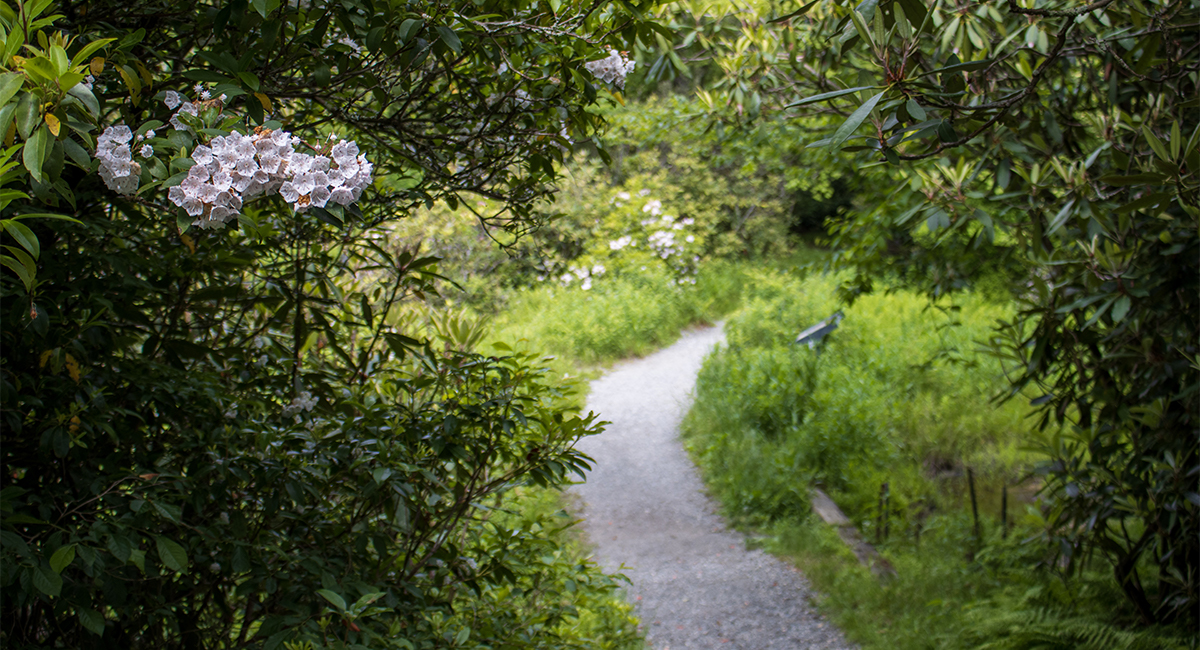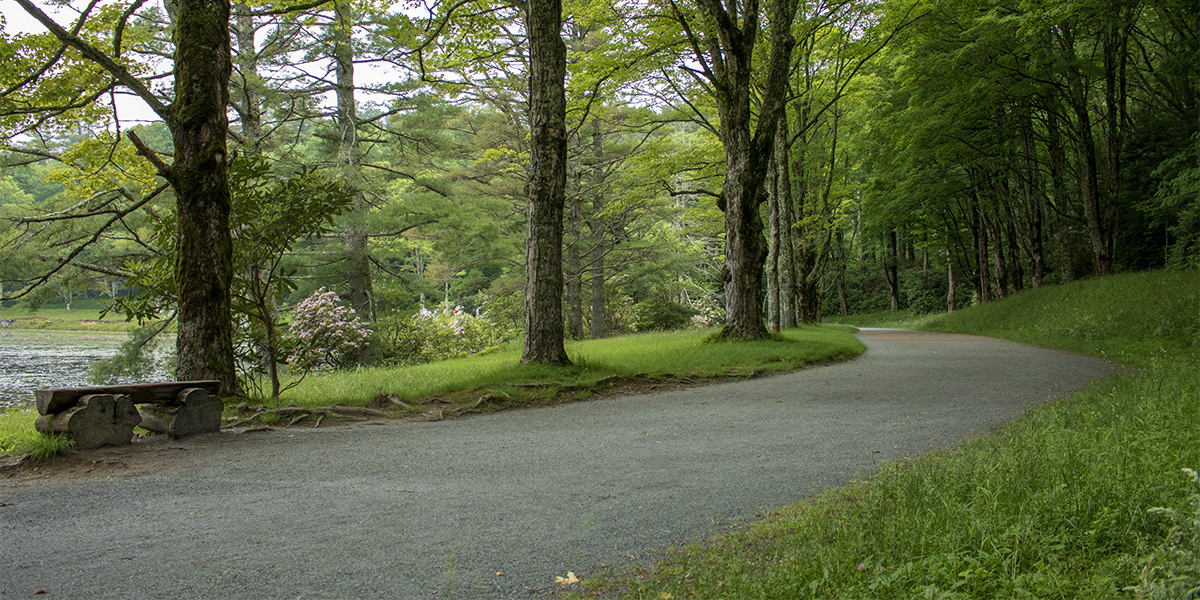 Bass Lake Loop
Length: .9 miles
Type: Loop
Difficulty: Easy
Distance from Chetola: Adjacent to Chetola Resort (.1 mi)
The Bass Lake Loop trail is the easiest and closest hike to Chetola Resort. Guests of Chetola can easily walk from their room to the short connector trail leading to the Bass Lake loop. This short .9mi loop offers a wide well-maintained pathway that circles Bass Lake just below the Moses H. Cone Manor House. The flat, partially shaded trail is an excellent place to take a jog or stretch your legs after a long car ride. Wooden benches are spaced throughout the loop and offer an excellent place to rest or enjoy a picnic. Keep an eye out for wildlife including native birds, beavers, and deer. This trail is dog-friendly but requires a leash.
Flat-Top Mountain Trail
Length: 4.8 miles
Type: Out and back
Difficulty: Easy
Distance from Chetola: 3.9 mi
The Flat-top Mountain Trail is great for families or groups because the trail follows a mild incline while staying nice and wide to accommodate all hikers. As you make your way up Flat-Top Mountain, you will follow switchbacks under a canopy of large native trees that lead to a beautiful open meadow about halfway up the mountain. In this meadow, you have the option of taking a short detour to the Cone Cemetery, burial place of Moses H. Cone himself.  As you gain elevation, you will find a couple of overlooks along the way (one of which you can likely spot Chetola Resort). Once you reach the trail's summit you may be brave enough to climb to the top of the 4 stories tall fire tower. The vantage point from the top of the tower is truly a bird's eye view.  Make sure to visit the Southern Highland Craft Guild back at Moses Cone Manor before you head out!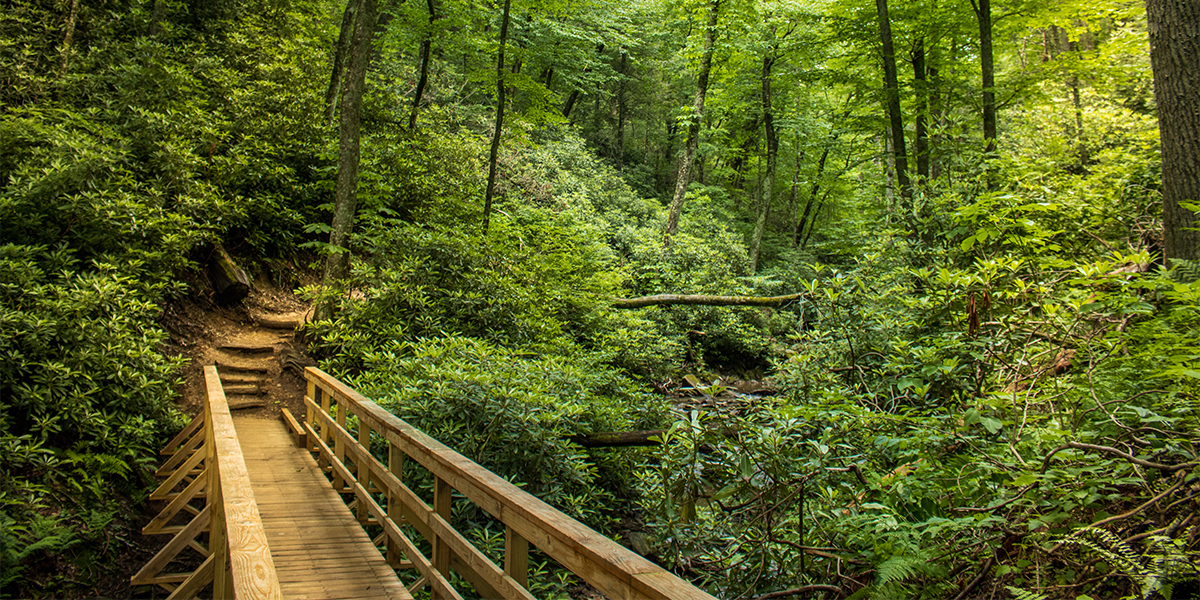 Glen Burney Trail
Length: 2.3 miles
Type: Out and back
Difficulty: Intermediate
Distance from Chetola: 1.3 mi
The Glen Burney Trail is lightly trafficked and conveniently located in the middle of Downtown Blowing Rock. While convenient, this trail is one of the more difficult hikes on our list. You will follow a narrow winding trail as you drop in elevation while following a series of streams and pools. We recommend wearing waterproof shoes or boots as some places on the trail may be wet or muddy. The bottom of the trail offers an amazing viewpoint of Glen Burney Falls, an impressive 40 ft waterfall. This out and back trail requires a good bit of steep climbing as you make your way back to the trailhead.  For this reason, we recommend a visit by more experienced hikers who don't mind getting in a workout. This hike is a great way to start any day and is only a short distance from Timberlake's Restaurant where you can return to enjoy a well-deserved meal.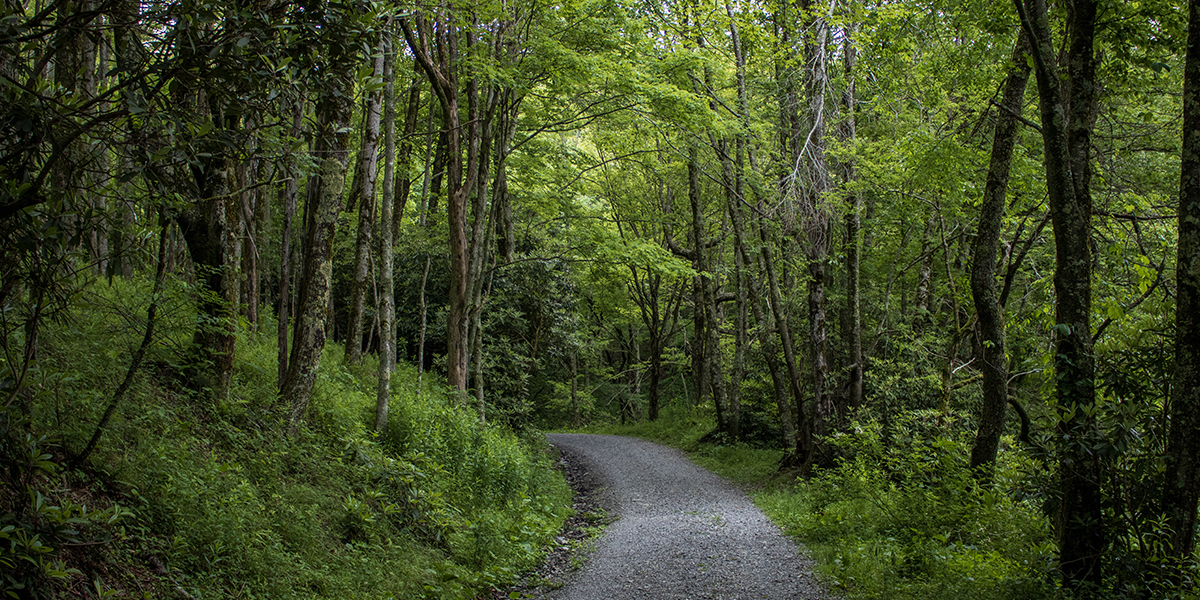 Rich Mountain Carriage Trail
Length: 6.3 miles
Type: Loop
Difficulty: Intermediate
Distance from Chetola: 3.5 mi
The Rich Mountain Carriage Trail offers a nice gradual incline that winds its way to a very large pasture and mountain views. Even though this trail is the longest on our list, it typically only takes 2.5 hours to complete. The trail follows the side of the mountain as you hike your way towards a beautiful meadow covered by many native wildflowers and butterflies in the spring & summer months. The trail continues to keep circling around the mountain until you reach the summit, where you'll find a nice oak tree to rest under for a few minutes. This hiking trail is great for families, dogs, and kids of younger ages. The trail is mostly gravel and follows a very gradual incline is enough for horses that frequent the trail.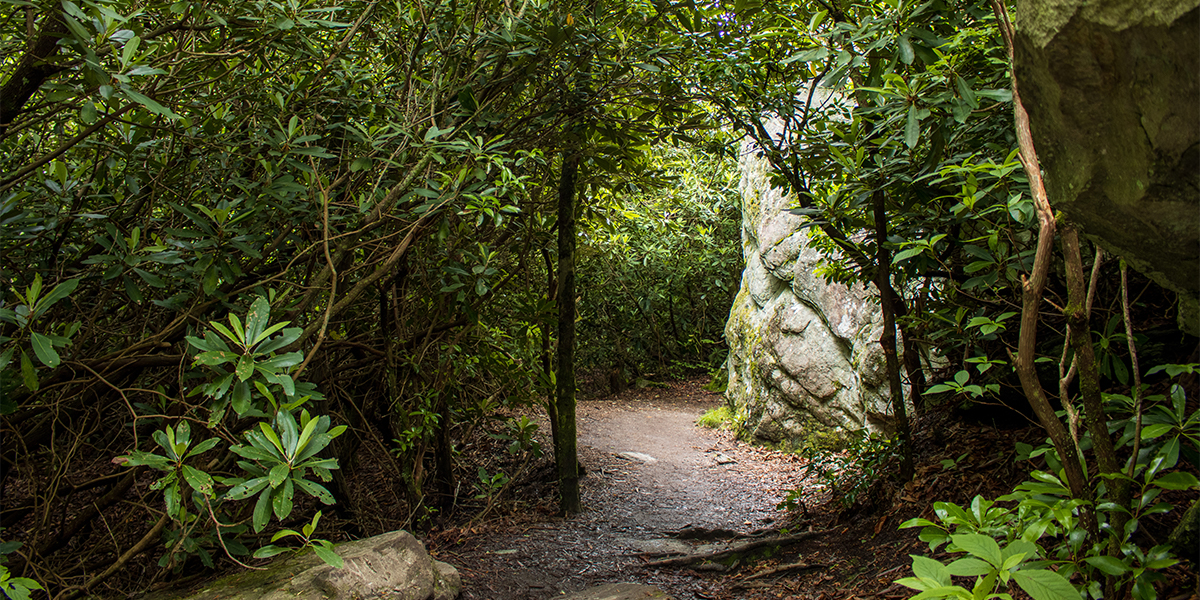 Boone Fork Trail
Length: 5.2 miles
Type: Loop
Difficulty: Intermediate
Distance from Chetola: 5 mi
The Boone Fork Trail is the furthest trail from Chetola on our list but is easily worth the 5mi drive along the Blue Ridge Parkway. This trail offers an ever-changing landscape as you hike through tall trees, wild rhododendron tunnels, an open pasture, Hebron Rock Colony, and a continuing series of mountain waterfalls. Much of the trail is moderately sloped but does require some steep climbs including a ladder near a large granite outcropping. We encourage you to make the most of the Hebron Rock Colony by taking a moment to relax on one of the massive boulders settled in the stream. While most of the trail is covered by trees, the rock colony offers a great place to soak in the sun. This loop is more frequently trafficked but offers room to spread out and ample parking at Julian Price Park. Make a day of it and bring a picnic to enjoy at one of the public picnic tables situated in the park.