Frequently Asked Questions about Chetola Weddings
You're engaged! Congratulations! This is a very exciting season of wedding planning, but don't feel like you have to jump in right away. There are a lot of decisions and things to consider when planning a wedding. It can be stressful, but it doesn't have to be. To make things a little easier on you, we have put together a list of frequently asked questions when planning your wedding at Chetola. 
Do you require a day-of coordinator?
We do require a day-of coordinator for weddings with over 100 guests. Otherwise we would recommend having one to make sure your day is running smoothly. 
What does Chetola include with the venue fee? What am I responsible for?
Included in the cost of the venue fee, Chetola provides tables, chairs, linens, silverware, glassware, and dishes. We also have special event enhancements, listed in our Wedding Guide. 

Florals, photography, hair & makeup, music, and cake are all up to you!We do have a list of vendors that we have worked with and recommend as well. 
Is there a food and beverage minimum?
There is, that is dependant on the venue you select. 
Do you offer tastings?
If you book we offer free tastings for up to 4 people

If you want to have a tasting before booking, there is an additional cost. But that payment will go toward your event costs if you end up booking.
What is the overtime policy?
Typical wedding event contracts are for 4 hours. Each additional hour is $250. 
What if it rains?
We always have a plan! It depends on the guest count and if there is a space being used for a reception. 
Is outside catering allowed?
Timberlake's, our onsite restaurant will take care of all your food and beverage needs. Outside food and beverage is not permitted unless approved by General Manager
Is liability insurance required?
Not required but recommended. 
What information do you need for a quote?
To provide you with an estimate, we need to know your venue(s), food selection (plated dinner, buffet tier, or stations), alcohol selection (beer, wine, liquor tier), and any event enhancements you may want to add on.
 How does paying a deposit work?
The first deposit payment comes after signing the contract. The cost of the first deposit is the amount of the venue fees. The payments afterwards will be the food and beverage cost, and any enhancements, divided up.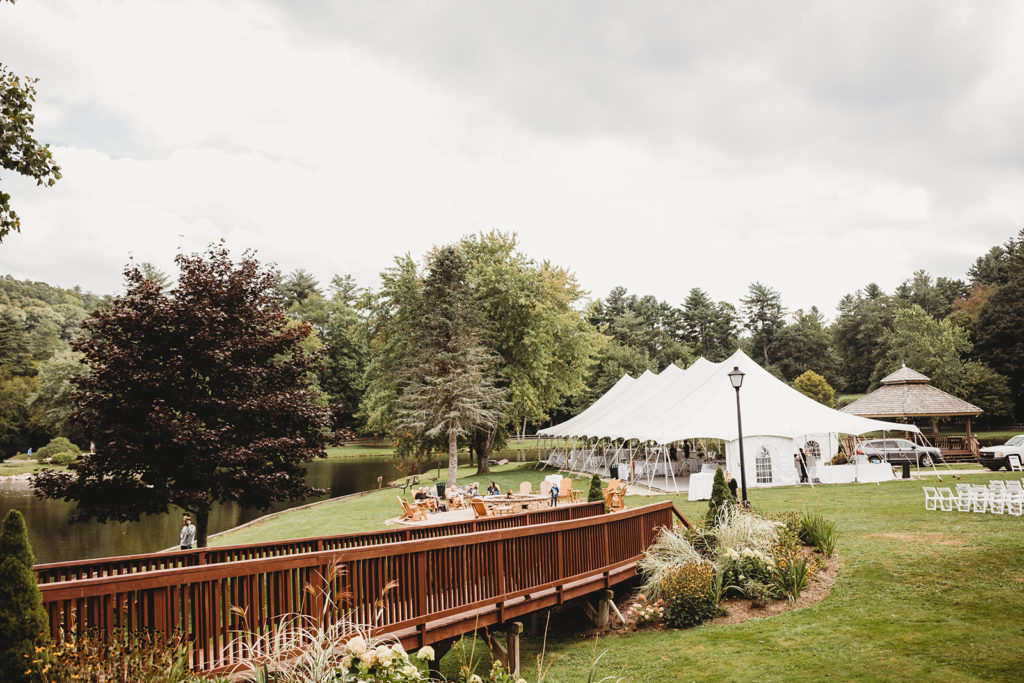 Questions for your Venue
Is it available on your chosen day?

Will it accommodate your guests?

Is it close to your ceremony venue?

How long is the rental for?

How much does it cost for the space itself and how much are the food and beverage minimums?

Is the price within your budget?

Does it have in-house caterers with menus you like?

Will there be other weddings taking place on the same day?

Can you move furniture and pictures?

Is there accommodations for guests, and will they be offered a discount?

Are you able to have a marquee/band/candles/fireworks?

If you want, can you have a full bar?

Does the quote price include the service charges?

Who will your main point of contact be and who will be on site that day?


Photo Credit: Dawn Marie Photo
Questions for your Caterer  (for Chetola Weddings, all events are catered by Timberlake's Restaurant)
Can menus be mixed and matched?

Can they alter menus to fit your budget and requirements?

Do they offer menu tasting service as part of the consultation?

What does the service include? Do they provide wait staff?

Do they provide alcohol?

If you do provide your own wine, will the corkage costs offset your savings