There's nothing like a delicious cup of coffee to make a good day in Blowing Rock great. The High Country is full of adventures, and the perfect start to a day full of fun is a divine cup of caffeine.
Here are a few of our favorite spots in the area (just a short walk or drive from Chetola) to cozy up with a warm cup: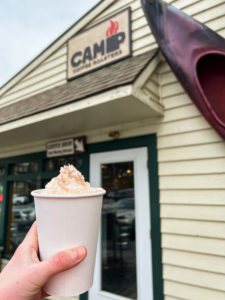 Camp Coffee Roasters
Just a short drive or walk from Chetola Resort, Camp Coffee is known for their yummy coffee and delicious pastries that make any day better. And with delicious seasonal coffees, tasty specialty drinks, and cozy upstairs there's no better spot in Blowing Rock to enjoy the morning. 
Bald Guy Brew
Another great spot right in the heart of Blowing Rock is Bald Guy Brew. Offering delicious hot chocolate, a variety of warm coffee brews, and a cozy spot, Bald Guy Brew is a place you'll want to experience. Located in the heart of downtown, Bald Guy also has quaint outdoor patio seating for warmer days.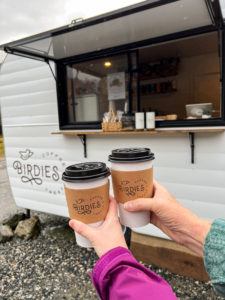 Birdies Coffee & Treats
If you're up for a little bit of an adventure, just a few minutes down the road — along Highway 321 in the cutest camper — is Birdies Coffee & Treats. Enjoy delicious seasonal beverages and classic coffee staples while taking in the view of the Middle Fork of the New River. 
P.S. Birdies often has sweet treat offerings from local spots around the High Country to go with your coffee!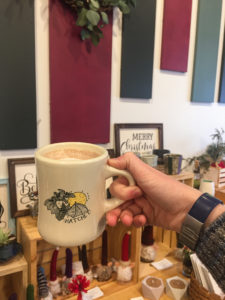 Hatchet Coffee
A favorite spot for locals, students, and visitors, Hatchet Coffee, located in East Boone is a must stop if you're craving a delicious warm cup of coffee. Aside from their mouth-watering coffees, Hatchet also has amazing specialty drinks, hot cocoa, tasty smoothies, and yummy snacks.
Local Lion
Although Local Lion is known for its amazing donuts, they also have heavenly hot coffee, espresso, hot cocoa, and tea for guests to enjoy. And you can enjoy all their drinks & treats inside their wonderful space or take it on the go by picking it up in their drive thru.
Espresso News
Espresso News is located in the heart of Downtown Boone and in addition to a cozy atmosphere and flavorful coffee, Espresso News has a full espresso bar, smoothies, hot chocolate, and pastries made in-house daily.
Talia Espresso Boone
Located on King Street in Downtown Boone, Talia's Espresso offers a wide variety of coffee to choose from in their cozy space. Besides yummy coffee, Talia's has a wide variety of specialty drinks, hot & cold drinks, cozy spots to sit, and serves smoothies and pastries.
Kovu's Coffee
One of the newest coffee shops in the High Country, Kovu's Coffee offers a cozy spot for you and your pup to enjoy some coffee beverages and treats. In addition to their delicious coffee, this adorable spot, just a short walk from Appalachian State University also offers hot chocolate, nitro cold brews, specialty drinks, and a selection of baked goods. 
P.S. Besides having an awesome coffee, Kovu's is one of our favorites because your pup can join you in their cozy space.
Higher Grounds Coffee Shop
Whether you're in the mood for a normal cup of coffee or a fancy drink, you can't go wrong with any choices you make at Higher Grounds. In addition to their amazing coffee options, you can also indulge yourself in one of their espresso creations, specialty beverages, coffee basics, specialty hot chocolate or when it finally gets warmer, a cold and refreshing drink.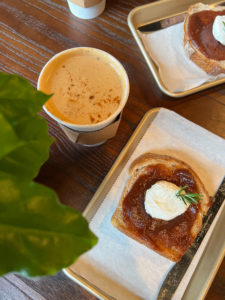 Mountain Grounds Coffee & Tea Co.
Under new ownership and recently renovated, Mountain Grounds in Banner Elk, not only serves delish cups of coffee but also an array of specialty drinks, delectable & warm apple ciders, and other seasonally inspired drinks. You can accompany any of their drinks with an array of delicious pastries or snacks. 
Insider Tip: On weekends, enjoy one of their specialty toast options like avocado, apple butter, or nutella - YUM!
Fred & Larry's Coffee
A Banner Elk staple, Fred & Larry's Coffee offers many different coffee, espresso, and latte options for visitors to enjoy. If neither of those choices entice you, they also offer specialty hot chocolate, tea, smoothies, kratom, and kava to drink. And on certain days, enjoy live music and local art around the shop!
Banner Elk Café
Known for their gourmet hot chocolate and yummy coffee, the Banner Elk Café has its own espresso bar that serves fresh roasted coffees, hot teas, smoothies, specialty coffee drinks, and fresh baked bagels and pastries. Feeling a bit peckish? Be sure to also enjoy a delicious breakfast or meal while you're there.
Little Deer Café
Located in Linville, Little Deer Café is a quaint little spot that offers heavenly coffee alongside fresh, homemade pastries, other specialty drinks, delicious breakfast bites, and savory lunch options.
Starting a day with local coffee is the perfect way to warm you up and get you geared up for adventure. With so many coffee spots AND fun activities, you'll never be bored or un-cozy on a trip to Chetola Resort. We hope to see you with a cup of coffee in hand soon!
*If you don't want to leave the comfort of Chetola for a cozy cup, enjoy some coffee in The Wading Room at Chetola Resort. And if you're looking for a delicious adult hot chocolate to enjoy after a day's adventure, visit us at Headwater's Pub at Timberlake's Restaurant for a Toasted Marshmallow cocktail!