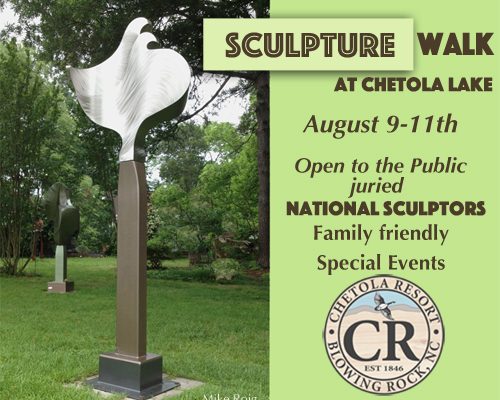 August 9-11th, 2019
Lakeside at Chetola Resort 
Chetola Resort's lakeside setting provides the outdoor venue that has achieved landmark status among travelers to the High Country. The lake provides a dramatic backdrop for the juried and curated exhibition of up to 50 national and regional sculptors.   Monumental scale and mid-scale works of art will be temporarily installed along the path around the lake.  Collectors and the public are invited to stroll leisurely to view the variety of premiere pieces many that will debut that weekend.
Weekend Timeline: 
Friday, August 9
PROSECCO & PAINTING – Tasting Spirits and Talking Art with Bob Timberlake and Joe Miller
6pm – Welcome
Passed hors d'oeuvres and buffet of heavy hors d'oeuvres
Cash bar
6:15pm - Ribbon Cutting
6:30pm – Prosecco Bar and/or Bourbon Tasting under tent
7pm – Q&A with Bob T. and Joe M. followed by informal sculpture walk
7-10pm – Public bonfire, cash bar, live music
Saturday, August 10
ART SPLASH – An Afternoon of Art & Games by Chetola Lake
Sculpture walks open to public and guests all day
11am-4pm – VR 3D Games with Douglas (5-min minimum, $1 per min.)
12-12:30pm – VR 3D Demo with artist Alan Gordon
1-1:30pm – VR 3D Demo with artist Alan Gordon
11am-4pm: Lawn Games*
     * Kids Clay Corner
         *Create Your Own Jackson Pollack
2-2:30pm: Joe Miller workshop with kids
1-2:30pm – Wine Tasting on the Lawn with Sunset & Vine
Noon-4pm - Music on the Lawn 
STARRY NIGHT CELEBRATION - Dinner and Dancing 
6pm – Cocktails – ticket includes 1 complimentary beer or wine
Cash bar in Gazebo
6:30pm – Dinner Buffet (elegant salad bar, filet mignon carving station, desserts, cash bar)
7:15/7:30pm – Awards presentation by Lawrence Wheeler
Music by Starlighter Orchestra 6-10pm
Public bonfire, cash bar in Gazebo

The Starlighters were formed in the spring of 2016 to bring together some of the areas finest musicians. Headquartered in Lenoir, it is a special band that plays the unforgettable standards of the Swing and Big Band eras. The Starlighters initially made a positive impression on Lenoir's most experienced music educators and performers and has spent the past 3 years sharing their love of music and fellowship with audiences around North Carolina.
For tickets and more information please visit:  https://thesculpturewalk.com/