are you ready for blowing rock?
We've created a tailor made guide for romantic getaways to enjoy the best of the high country.
48 Hours as a Local
Late Afternoon Exit Strategy
Whether it's the weather, or "personal" errands, it is important to begin your exit strategy from life's craziness as early as possible. Less than 2 hours from Charlotte and Greensboro, and less than 3 hours from two-thirds of NC, Blowing Rock is easily accessible for a 2-night retreat. It is a beautiful drive, and we recommend taking the Blue Ridge Parkway for as much of it as possible.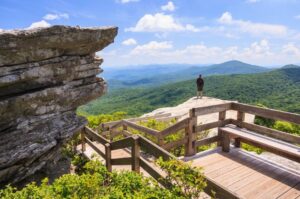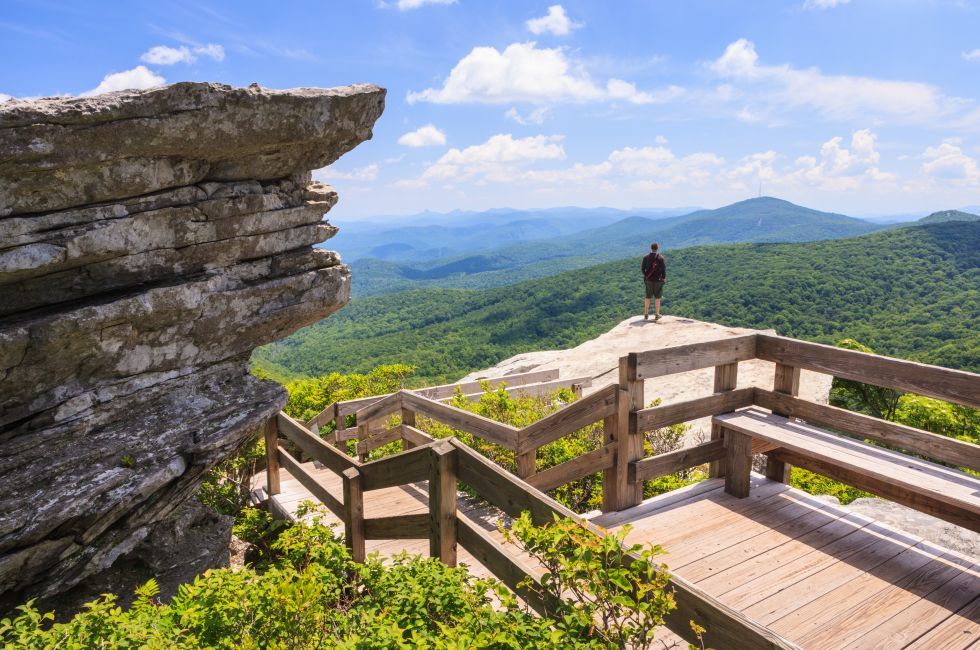 View from Blue Ridge Parkway, Blowing Rock
Settle In
Check into Chetola Resort & Spa, one of the best stays in the Blue Ridge according to Southern Living Magazine. The resort sits on 78 gorgeous acres nestled right in the heart of Blowing Rock. Choose from Chetola Lodge, the Bob Timberlake Inn, or one of their hilltop vacation rental condos. The Resort offers outdoor patio, as well as indoor dining, weekend bonfires, a full service spa, Orvis fly-fishing, a sporting reserve, fitness center, yoga, and more. To celebrate a special occasion or each other, there is a special getaway package that includes overnight accommodations in the Lodge, a $75 gift card to Timberlake's Restaurant, house made chocolate covered strawberries, and breakfast for two. Guests can call the Resort direct at 800-243-8652.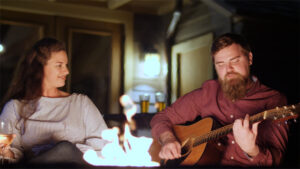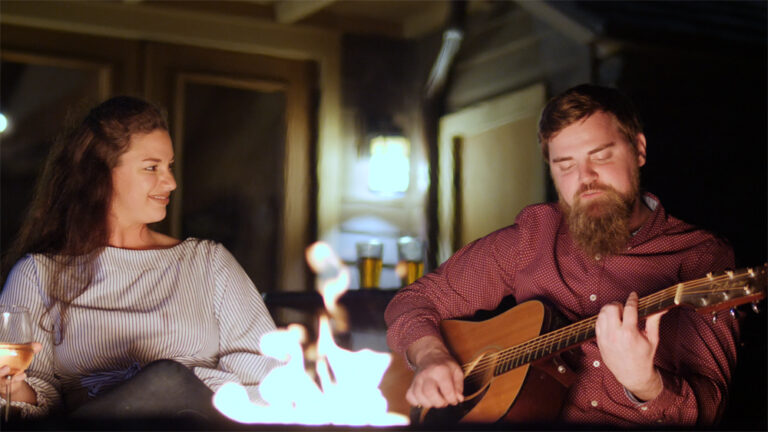 Bonfire at Chetola Resort
First Evening
Walk from Chetola to downtown Blowing Rock (less then 15 minutes) to stretch your legs, enjoy some local boutique shopping & art galleries, and then head over to Chef & Somm for a glass of wine or cocktail, and their irresistible salmon dish. After dinner, head back to Chetola and take a stroll around the lake, complete with trails, resident swans, and geese. Finally, warm up by the outdoor fire pit before settling in for the night.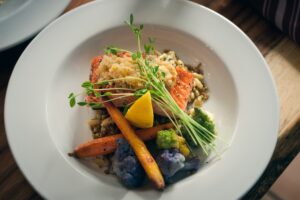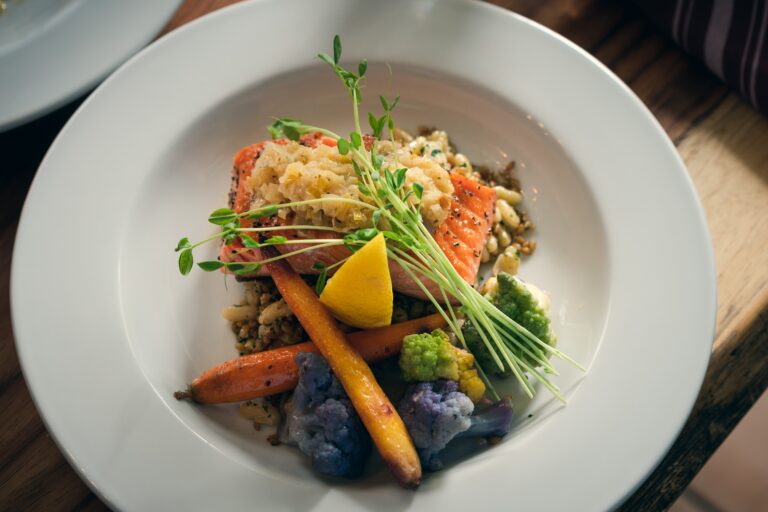 Dinner at Chef & Somm
Next Day
Enjoy Chetola's outstanding cooked to order breakfast that may include stuffed french toast, chicken and biscuits, power bowls or house made quiche. See here for their breakfast menu. Next, create your own adventure with endless outdoor pursuits. Guests at Chetola enjoy a short walk to Bass Lake in the adjacent Moses Cone National Memorial Park, which offers a mile loop trail. Or, explore the 3500 acres with 27 miles of trails. Less then 3 miles away is the Blue Ridge Parkway, offering trails, stunning views, and a good excuse to pack a picnic. If you decide to stay in town, Bistro Roca, just off main street in downtown Blowing Rock, offers a warm and welcoming environment with local cuisine-perfect for lunch. After your adventure and a bit of refueling, return to Chetola for their signature Swedish massage and facial combo-a must do after exploring the high country.
Second Evening
Now that every muscle is relaxed and your mind is completely at ease, take a stroll down by the lake and enjoy a book, a cocktail, or a good conversation just before dinner. Timberlake's Restaurant is only steps away from the lake or your room at the Resort. They offer outdoor seating on the patio, picnic delivery along the lake, or inside dining. Try their famous Ahi Tuna Nachos, a Locally Sourced Salad, and their Elk Strip Loin for dinner. Their pastry chef (trained at Johnson & Wales University) creates house made desserts daily, perfect for sharing. Live music completes the evening, as the Resort offers entertainment several nights each week (check the calendar of events for evening schedules).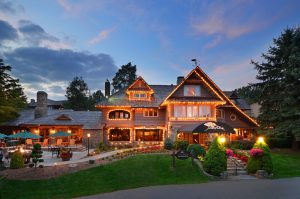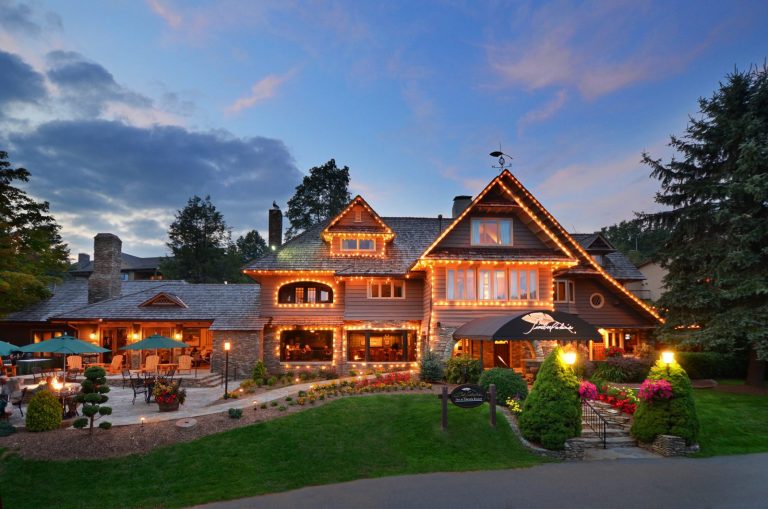 Timberlake's Restaurant, Chetola Resort
Departure Day (or, extend it!)
Sleep in. For those of you who are unable to do this (that's ok), walk over to Bald Guy Coffee for a pour over or nitro, and enjoy the peace and quiet of the morning in Blowing Rock. There is virtually zero traffic noise early in the day, and it is a great time to walk through the Blowing Rock Park. For breakfast, visit Sunny Rock Eggs and Things, as it offers southern hospitality with scratch made biscuits, eggs, French toast, along with healthy options as well. Next, venture over to Blowing Rock Art & History Museum (aka BRAHM to locals). Walk through one of their modern art exhibits, or participate in an educational program. And, admission is always free! Be sure to grab a treat from The Backstreet Bakery before heading out for a drive along the Blue Ridge Parkway. During the winter months, the views from the BR Parkway are unobstructed, allowing for long range vistas. There are plenty of pullouts for taking photos, enjoying your house made treats, and being in awe of the natural beauty of this place. Plan a hike along the way home, or just take your time getting back. Or, better yet, extend your stay another night!
If this is your first visit to Blowing Rock, we know that this won't be your last visit. If you have already visited the area, then we personally invite you to come back for fresh mountain air that will leave you energized, recharged, and ready!
-Your Blowing Rock Ambassadors, Outdoor Recreational Aficionados, NC Foodies, High Country Enthusiasts, Winter Weather Nerds, and hopefully your hosts from Chetola Resort & Spa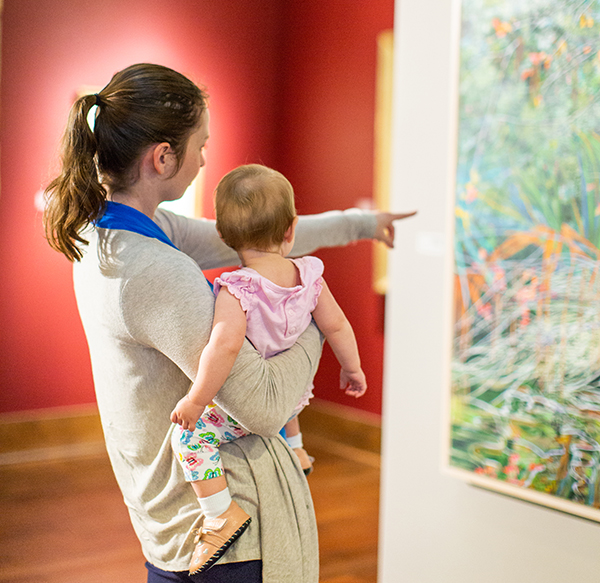 Art exhibit at BRAHM
Your first visit to Blowing Rock won't be your last