Winter may seem like the perfect time to stay inside and cozy up next to the fire with a warm cup of hot cocoa, but when cold weather hits, that means it's time to hit the trails.
Hiking in the cold may sound a little crazy (especially if you're from somewhere warmer), but we're going to share with you why hitting the trails when the wind gets chillier, and the days get shorter is one of our favorite winter activities.
Less Crowded Trails
Most people prefer to hike in spring, summer, or fall when there are colors and blooms galore. But while you might not see as many flowers or leaves during your winter adventure, you'll have many trails all to yourself! And less crowded trails mean you can really enjoy the peace and tranquility that comes with enjoying nature.
No Bugs!
One of our least favorite things about summer hiking is the BUGS! Mosquitos, ticks, spiders – all those creepy crawlies you might not love to see have all gone into hibernation for the season. Which means that you can enjoy your peaceful hike without a face full of spider webs.
Spectacular Views
It might not seem like it, but winter is the BEST time of year for views. Though we love it when leaves are on the trees, when the leaves are gone, it offers a unique and spectacular view of the mountains beyond. Plus, something about the colder weather makes the blue ridges of the mountains really POP! And it makes for gorgeous photos.
If we've successfully convinced you to try a winter hike on your next visit, here are our favorite spots to explore during the most magical time of the year:
**Please keep in mind that these trails could be very icy and extreme caution is always recommended when hiking in the winter.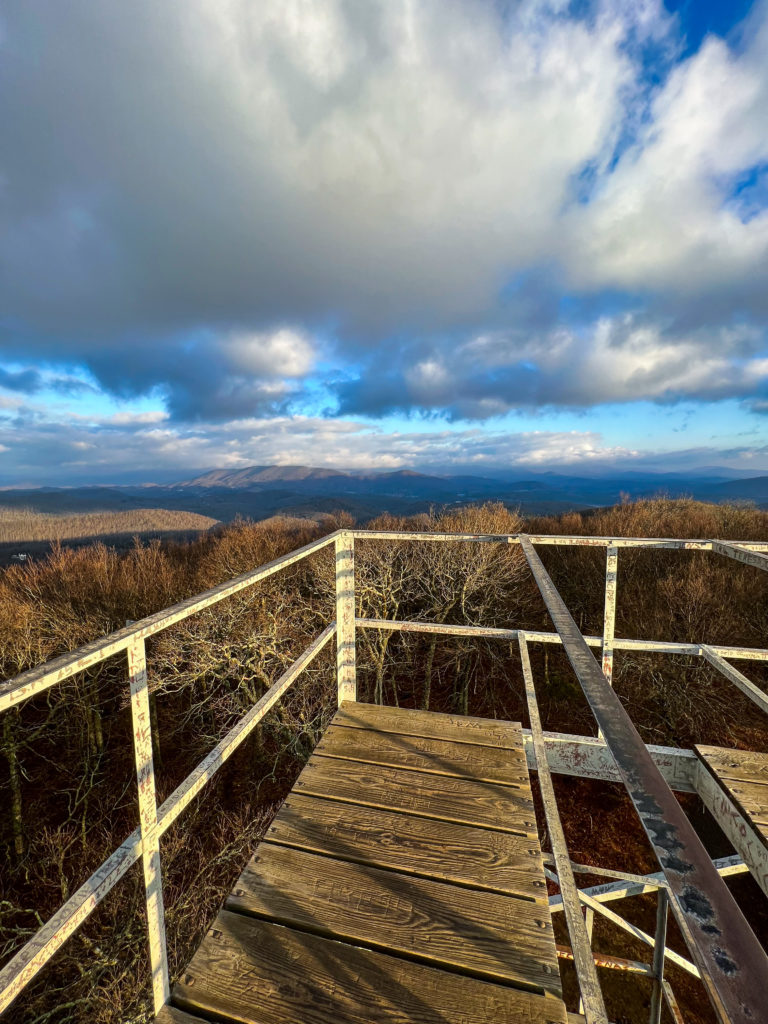 Moses Cone Fire Tower (4.7 miles) (Located 5 minutes from Chetola Resort)
Though the mileage of this hike may look intimidating, this gravel carriage trail follows a gradual incline through the Cone property up to the Flat Top Lookout Tower. As you traverse up this trail enjoy walking through scenic forests, fields filled with cows, the Cone cemetery, picturesque meadows, and panoramic views from the Flat Top Tower. Visible from the top of the tower is Grandfather Mountain, Sugar Mountain, Roan Highlands, Beech Mountain, Elk Knob, Mount Rogers, and more beautiful peaks.
*Though the Flat Top Tower is sturdy, climb up to the top at your own risk.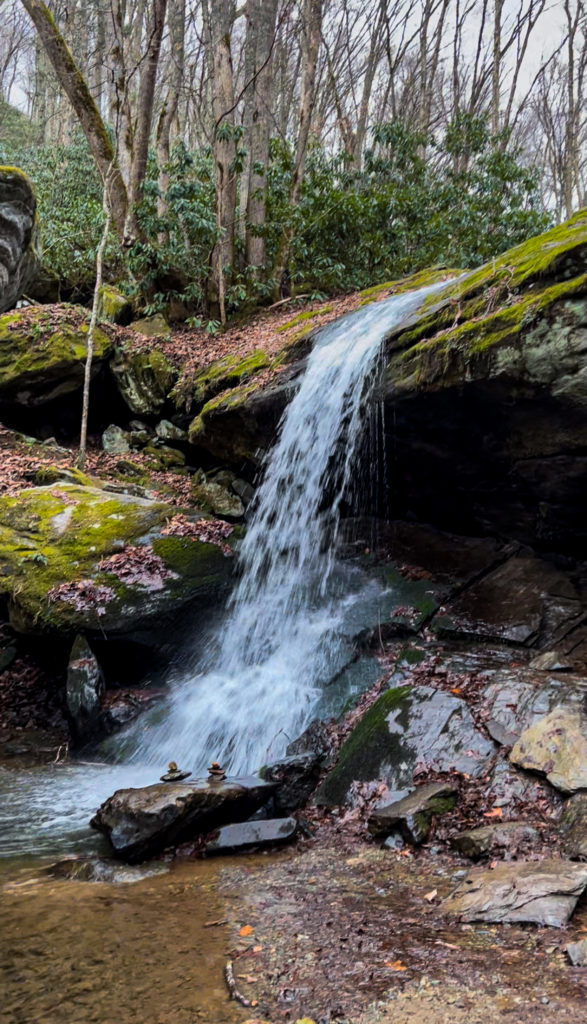 Otter Falls (0.9 miles)
Located just a short drive away in Seven Devils, NC, this short hike that is rated as moderately strenuous follows a beautifully forested trail as it descends 230 feet to Otter Falls. With 4 different colored trails, each exploring a different part of the forest, there is a nature walk in Seven Devils for everyone to enjoy! There are also observation decks for you to take in the views from the top of the falls as well as trails that lead to the bottom.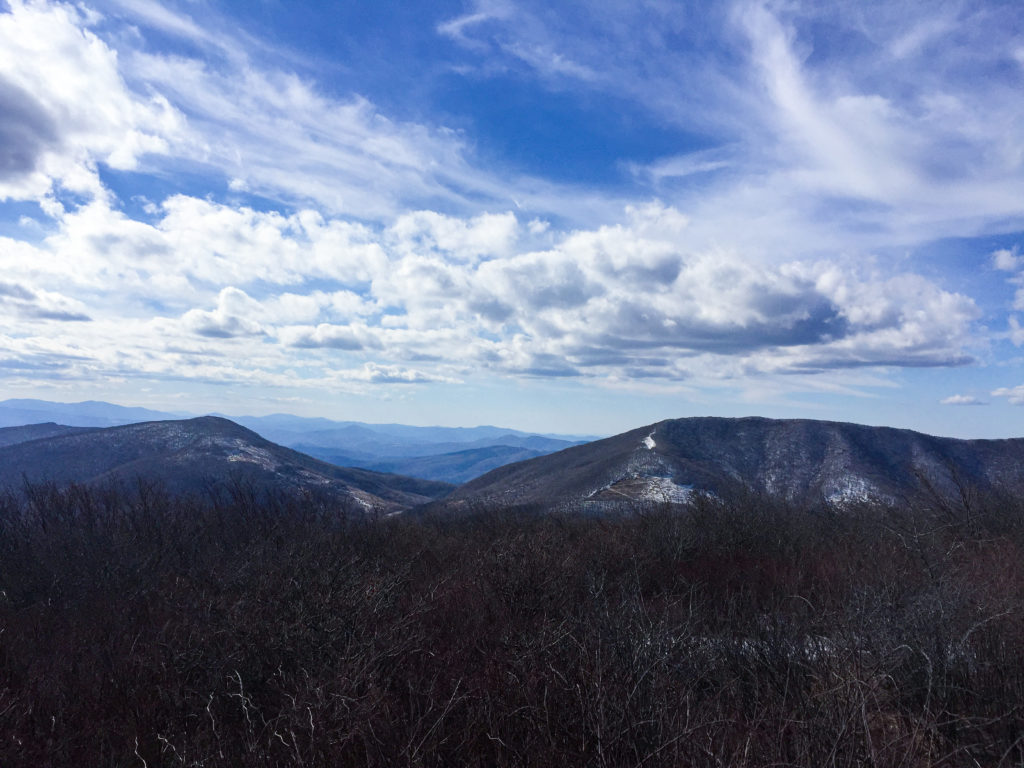 Summit Trail (4.5 miles) or Beech Tree Trail (1 mile) at Elk Knob State Park
Elk Knob State Park is one of our favorite state parks in the area and with 4 different trails to explore, there's something for every adventurer. The Summit Trail is one of our favorites because of the views and the gorgeous forests you climb through to get to the top. At the summit you'll have breathtaking views that show off The Peak, Bluff Mountains, Mount Jefferson, Grandfather Mountain, Mount Mitchell, Mount Rogers, and so many more iconic Blue Ridge Mountain peaks.
The Beech Tree Trail is another trail that you can't miss at Elk Knob State Park. Though it doesn't have the iconic views that the Summit Trail has, the Beech Tree Trail is an easy 1-mile loop that makes up Elk Knob's Kids in Parks Track Trail! The trail follows through a Beech Tree Forest- be sure to pay attention as you walk, as there are pieces of artwork to enjoy all down the trail.
And if you enjoy cross country skiing, Elk Knob State Park is the only NC State Park that allows visitors to cross country ski.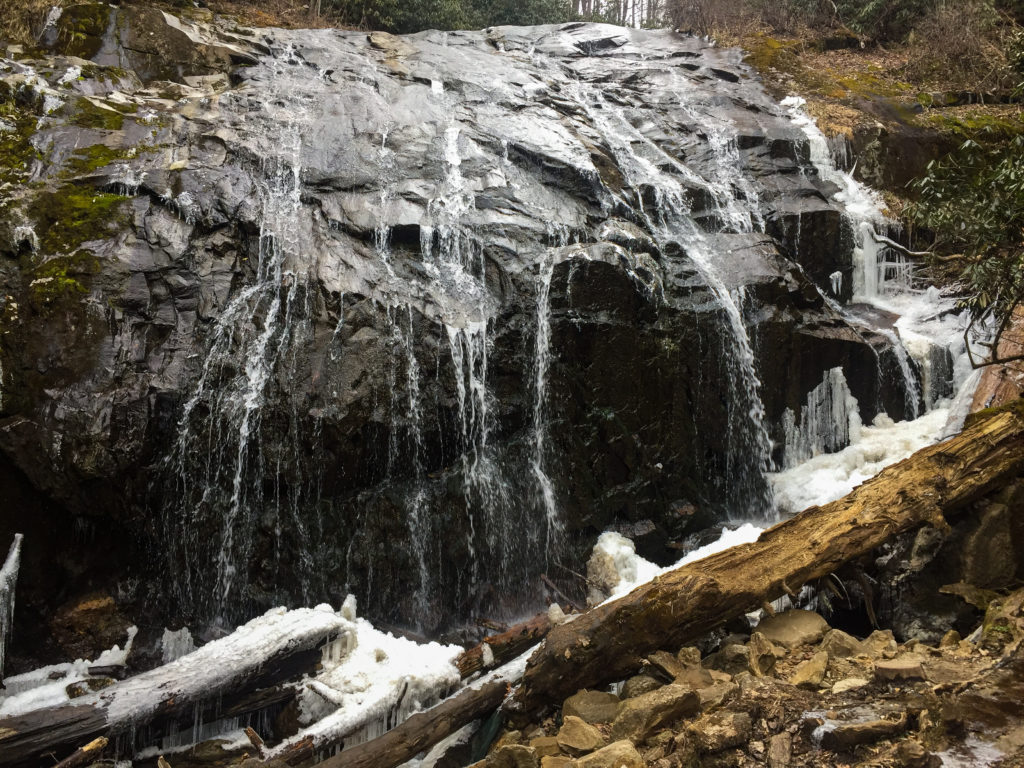 Glen Burney Falls (3.2 miles)
Located just 3 minutes from Chetola Resort, these beautiful falls are right in the heart of Downtown Blowing Rock. On this 3.2 mile out and back trail, enjoy views of Glen Marie Falls and Glen Burney Falls at the end of the trail. In addition to viewing the falls, at the beginning of the trail you can find remains of an old structure.
This trail is a favorite of Chetola guests and visitors because its location makes it a great adventure to experience before or after exploring Downtown Blowing Rock. You can even walk from downtown to the trailhead for the falls! It's the perfect hidden gem, right in town!
This trail is rated as moderate but does have a few steep spots, rocks/roots, and can be frozen over in spots during the winter months. Please be cautious when hiking.
For the best experience while winter hiking, here are a few extra tips for hiking during this beautiful time of year:
Winter Hiking Reminders:
Check the weather! Know what conditions will look like during the day.
Wear sturdy shoes. Many trails can be slick and icy during the winter months.
Wear warm socks! And if you're going on a long hike in the snow, bring an extra pair!
Bring water and stay hydrated.
Be safe and have fun out there!
And if you don't feel comfortable hiking by yourself, consider joining one of the group hikes with Highlands Recreation at Chetola Resort. Check our monthly activities calendar to see when and where the hike will take place! (Activities Calendar)
Pro-tip: Stop by Timberlake's Restaurant and Headwater's Pub after your hike for a warm meal and a toasty drink (like our Toasted Marshmallow)!
We can't wait to be your winter adventure basecamp!