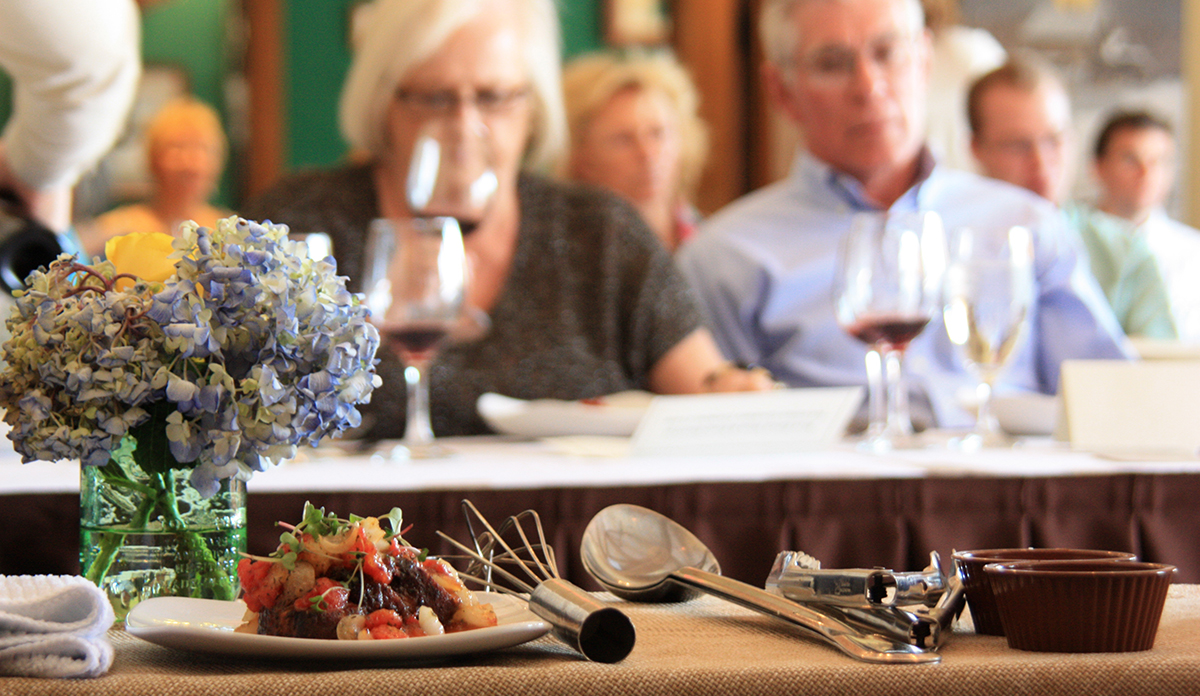 "Create Your Own" SAVOR Package
May 2-5, 2019
Package Inclusions:
20% off Chetola Lodge and Bob Timberlake Inn*
(Breakfast included with Lodge and Inn only)
20% off 1-4 Bedroom Condominiums or 3rd Night Free*

*Special accommodations discount not available for groups of 10+
A la Carte Add-Ons:
"Taste! A Restaurant Showcase", Thursday, May 2 from 6-8pm - SOLD OUT
$36 per person; (reg. $40)
7th Annual Corkscrew & Brew 5K, Saturday, May 4 at 9am
* Wine/Beer-Free: $22 per person (regularly $25+$3 processing fee online)
* Wine/Beer-Lovers: $27 per person (regularly $30+$3 processing fee online)
"Vintners' Village on Main Street", Saturday, May 5 from 1-5pm
$45 per person (reg. $50)
"Gospel, Grits & Gravy", Sunday, May 5 from 9-11:30am
$31 person (regularly $35)
2-night minimum required in Lodge and Inn on weekends; 2-night minimum always required in condos
Book your package by calling 828.295.5500
---
Event Details:
Taste! A Restaurant Showcase
Thursday, May 2

sold out
Lakeside Tent at Chetola, 6pm-8pm
TASTE! is a culinary compilation showcasing more than 20 Blowing Rock and High Country restaurants. Held under the Lakeside Tent at Chetola Resort, restaurants will serve small plate portions of some of their signature dishes. Craft beers, wines, and other beverages will be available for tasting. Cash Bar. Add live music by Strictly Clean & Decent to the mix and it's a perfect evening!
---
Corkscrew & Brew 5K
Saturday, May 4
Chetola Resort
Race begins at 9am
Check-in: 8am-8:45am
Pre-registration Friday, May 3, 4-7pm in Chetola Boardroom
Featuring craft beer from Boone-based Appalachian Mountain Brewery and Timberlake's wine bottled exclusively for Bob
Timberlake by Childress Vineyards. Contact Gary Woolard at gwoolard@chetola.com or 828.295.5533 or click HERE for more info.
**Early packet pick-up available on Friday, May 3 from 4-7pm in the Chetola Boardroom
---
Vintners' Village on Main Street
Saturday, May 4
Main Street, Downtown Blowing Rock, 1-5pm
Vintners' Village (formerly known as the Grand Tasting) has been enhanced. A stretch of Main Street will be closed off for festival-goers and hoppingwith a focus on high-end wine tastings paired with local fare, and a stage with live music acts. Shops and restaurants will be open for shopping and specials.
---
Gospel, Grits & Gravy
Sunday, May 5
Lakeside Tent at Chetola, 9am-11:30am
An innovative Southern breakfast by Chetola Executive Chef Matthew Rivers, with live music by Glenn Bolick & Family and New Covenant served alongside, biscuits, grits, various artisanal meats, and creative flights of gravy! One of SAVOR's most popular events!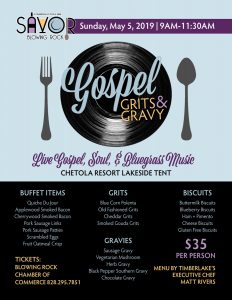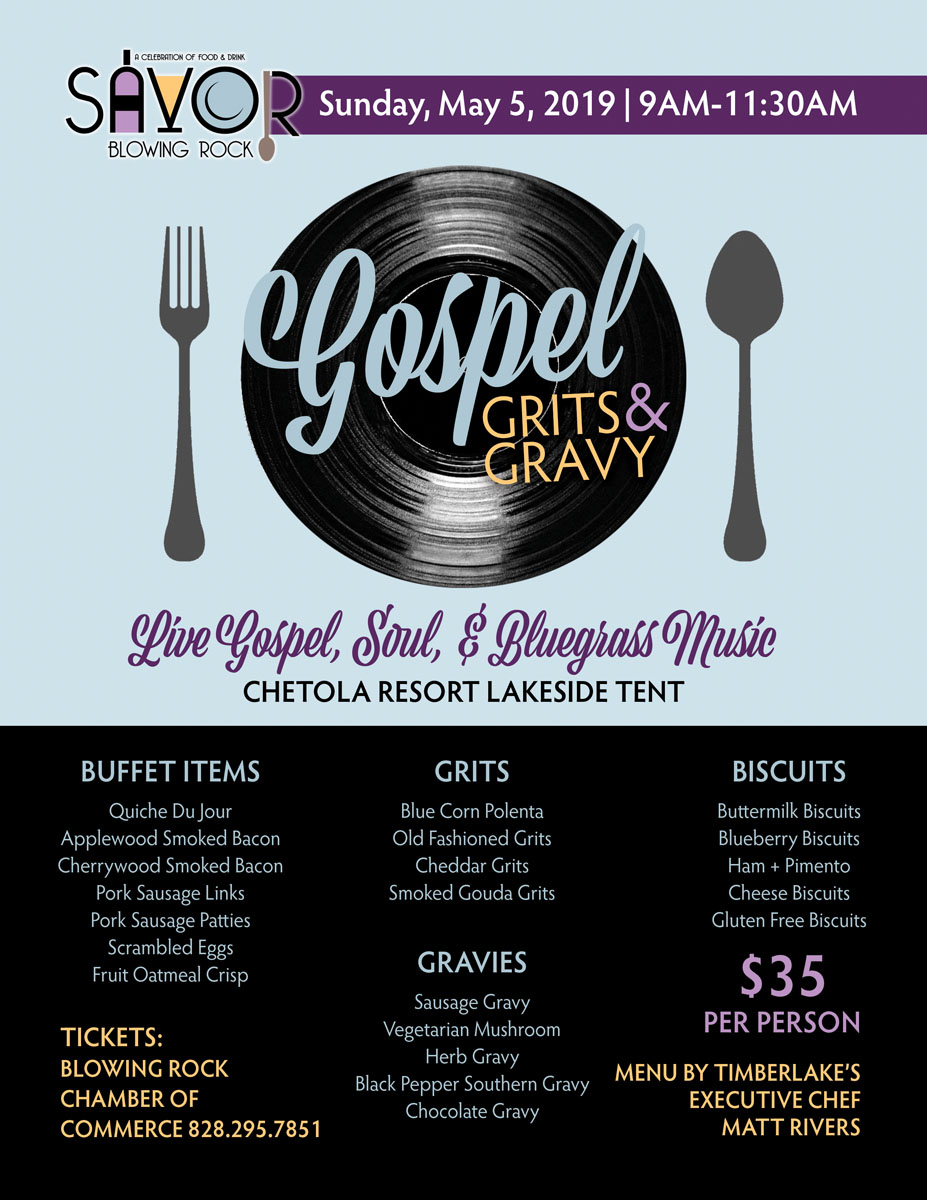 ---
Other SAVOR Events
All other wine festival events can be viewed at the website www.savorblowingrock.com. Other wine festival events include Seminars, Cooking Classes, Wine Tastings, Dinners, and more. Tickets to these events can purchased on the above website or by calling the Chamber at 828-295-7851.
SAVOR Blowing Rock Packages Inquiry