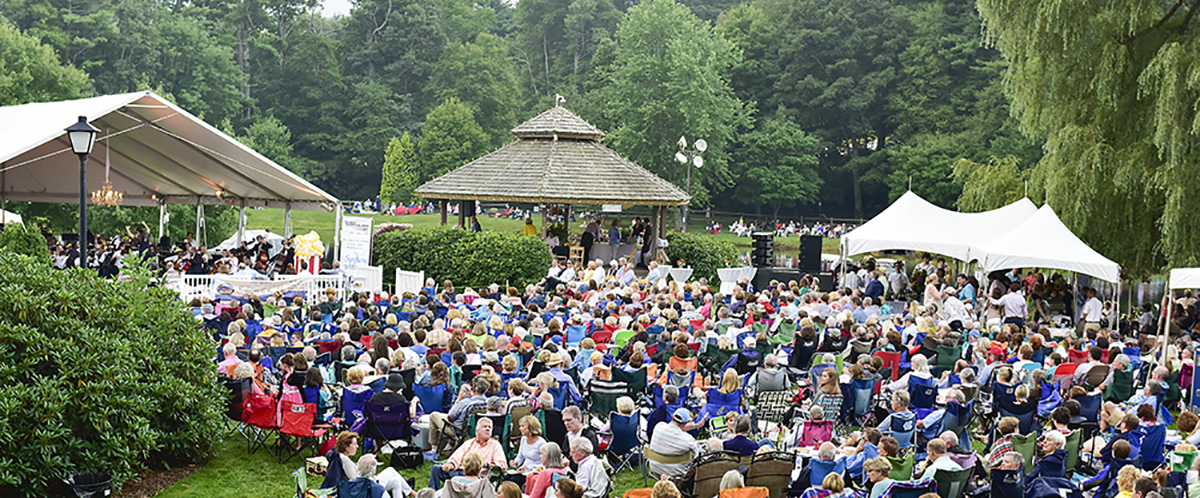 33rd Annual Symphony
By the Lake at Chetola Resort
Saturday, August 22nd, 2020 - CANCELED
Upon careful consideration, the 33rd Annual Symphony by the Lake has been canceled. We are honored to host this Blowing Rock Chamber event each year but understand the need to transition to ensure the safety of our staff, guests, and community. We appreciate the support we have received and hope to see you at next year's event.

Symphony by the Lake Inquiry
Symphony of the Mountains
Symphony of the Mountains was formed in 1946 as the Kingsport Civic Symphony. Twenty-seven musicians attended the first rehearsal and the number grew rapidly to more than 40. The first concert was free to the public and neither the conductor nor any of the musicians were paid. Today, Symphony of the Mountains serves the entire Northeast Tennessee/Southwest Virginia region. It is a fully professional orchestra of more than 65 musicians, drawn from the Tri-Cities area as well as symphony orchestras in Knoxville, Asheville, Roanoke and beyond. 
Symphony of the Mountains is conducted by Maestro Cornelia Laemmli Orth. Laemmli Orth joined the Symphony of the Mountains in 2006, the Symphony's 60th year. Born in Switzerland, she brings a wealth of experience to Symphony of the Mountains. Cornelia holds three Master's Degrees: one in piano from the conservatory of Winterthur, one in choral conducting from the University and Conservatory of Zurich and one in Orchestra Conducting from Northwestern University, where she studied under Maestro Victor Yampolsky.  Before coming to the United States, Mrs. Laemmli Orth taught music history, theory, choir, orchestra and voice.  She has also conducted various choirs, youth and community orchestras, operas and musical productions throughout Europe. You can learn more about the Symphony of the Mountains at www.symphonybythelake.com.
---
Concert Begins
7:30pm, Symphony of the Mountains
program will be announced closer to date.
---
Gates Open
5:30pm
---
Picnic on the Lawn
5:30pm until dusk. Pork BBQ, grilled chicken and an array of sides. $14/person.
---
Pre-Symphony Dinner
Seatings at 5pm, 5:30pm and 6pm. Four-course meal at $65/person (includes parking on property). Reservations required.
---
Dinner on the Patio
Seating/bar service begins at 5:30; dinner served at 6:30pm. Four-course meal at $120/person (includes all-night premium seating, Symphony ticket and parking on property). Reservations required.
---
Celebration at the Arbor
Private cash bar open at 5pm; heavy hors d'oeuvres from 6-8pm. $90/person (includes parking on property and Symphony ticket). Reservations required; seating limited to 44.
---
Fireworks Display
Approx. 9:15/9:30pm
---
Free Raffle
Raffle tickets (only one per person, please) can be filled out at the Chetola Tent until just before intermission. A winner will be drawn at intermission. Prizes TBA.
---
Symphony Tickets
Adults: $40 in advance, $50 at the gate; Children (3-11): $15; Children 2 and younger free
Audiophile Section
Tickets with parking pass: $105 each
Tickets without parking pass: $95 each
If you are a true audiophile - you just love the symphony music and don't want to participate in the social atmosphere - this is the section for you!  A private section located just in front of the symphony tent will be fenced off with reserved seats and shared side tables. Price of ticket includes a charcuterie box (meats, cheeses, fruit and olives), two beverage tickets and bottled water. This section is the quiet section so please keep talking to a minimum. Limited to 50 seats.
Symphony tickets are available at the  Blowing Rock Chamber of Commerce or you can click here to purchase online.
Audiophile tickets are available only through the Chamber: 828-295-7851
---
Ticket Locations
The Blowing Rock Chamber of Commerce or online at symphonybythelake.com.
Will Call Ticket pick-up will be at the Blowing Rock Chamber of Commerce
---
Free Shuttles
Service begins at 5:30pm
Pick-up/Drop-off Points:
Food Lion Shopping Center (handicapped accessible)
BRAHM Parking Deck
American Legion Hall Parking Deck
Tweetsie Railroad
Chetola Resort
The Food Lion shuttle drops off and picks back up inside Chetola's main gate; all other shuttles drop off and pick up at the rear of Tanger Outlet at the pedestrian access into Chetola
---
Parking
BRAHM Parking Deck
Food Lion Shopping Center
American Legion Hall Parking Deck
Tweetsie Railroad
Limited parking available at Tanger Shoppes on the Parkway
Parking at Chetola Resort restricted to VIPs with a special permit
---
Pet Policy
Pets will not be permitted on the lawn.