Fall is the most beautiful season for hiking in the High Country. Breathtaking views of oranges, reds, and yellows, crisp autumn air, and crunchy leaves makes fall the perfect time to hit the trail.
Though any trail in the High Country is spectacular during the fall season, these are a few that you can't miss: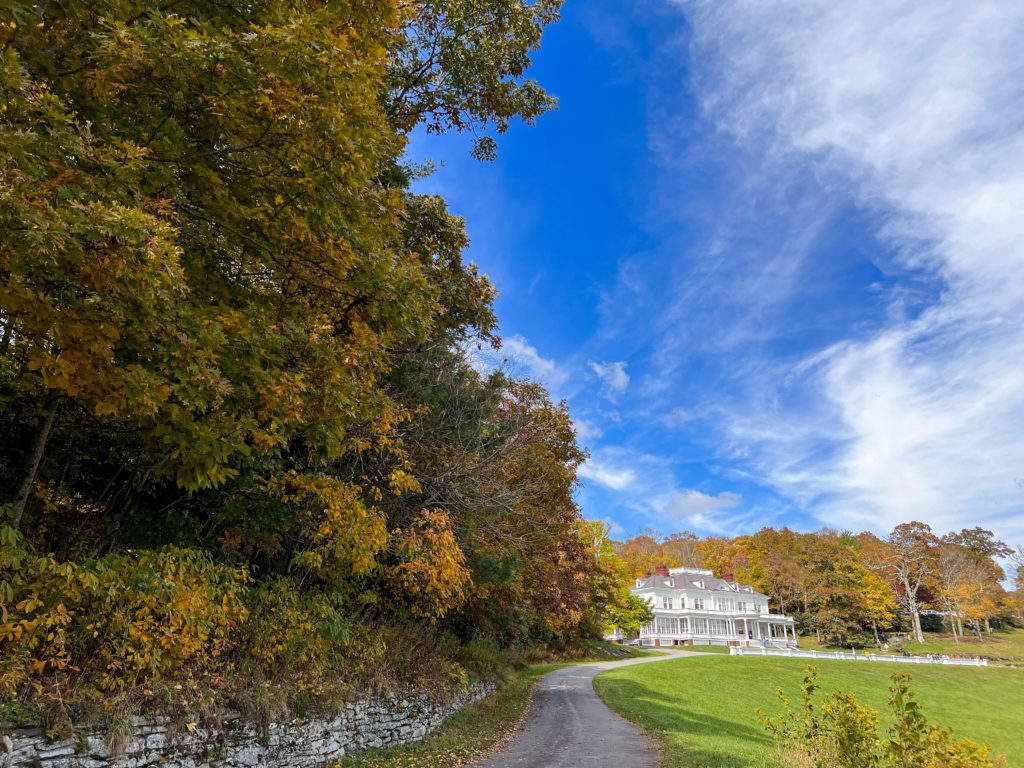 Moses Cone Manor (6.2 mile loop from Bass Lake)
Whether the Moses Cone Manor is a spot you frequent or you've never seen this spectacular home, the Cone Manor is a must see in the fall season. With the manor house surrounded by trees, blanketed in recently fallen leaves, views of Bass Lake below, and Blue Ridge Mountain views beyond, the Moses Cone Manor boasts one of the best views during the fall season.
If you're looking for a long hike, you can enjoy the Moses Cone Carriage Trails directly from the Chetola grounds and hike to Bass Lake, the Apple Barn, or up to the Moses Cone Manor. If you're looking for a beautiful drive, you can take the Blue Ridge Parkway to Milepost 294 and enjoy the Cone Manor without a trek.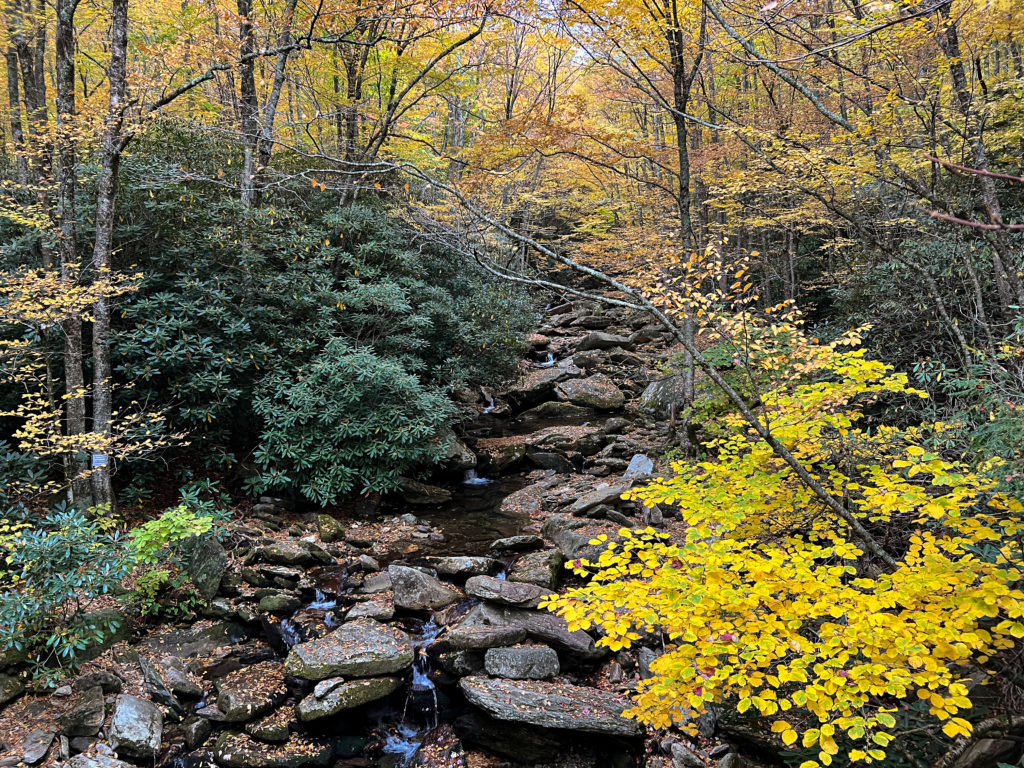 Tanawha Trail (13.5 miles total | you can do small sections along the Blue Ridge Parkway)
Running parallel to the Blue Ridge Parkway along Grandfather Mountain, the Tanawha Trail passes underneath the Linn Cove Viaduct, up boulders, through forests of beech and birch trees, over rivers, showing off panoramic views, and more. As the trail runs along 13 miles of the mountains, adventurers can experience unique environments and a trail unlike any other along the parkway, the Tanawha Trail is something you can enjoy sections of for years to come.
There are many ways to access the Tanawha Trail from the parkway. This lets hikers choose as long or as short of a section as they like.Visit www.nps.gov/blri/planyourvisit/tanawha-trail.htm to see a map of the trail and choose your section to explore.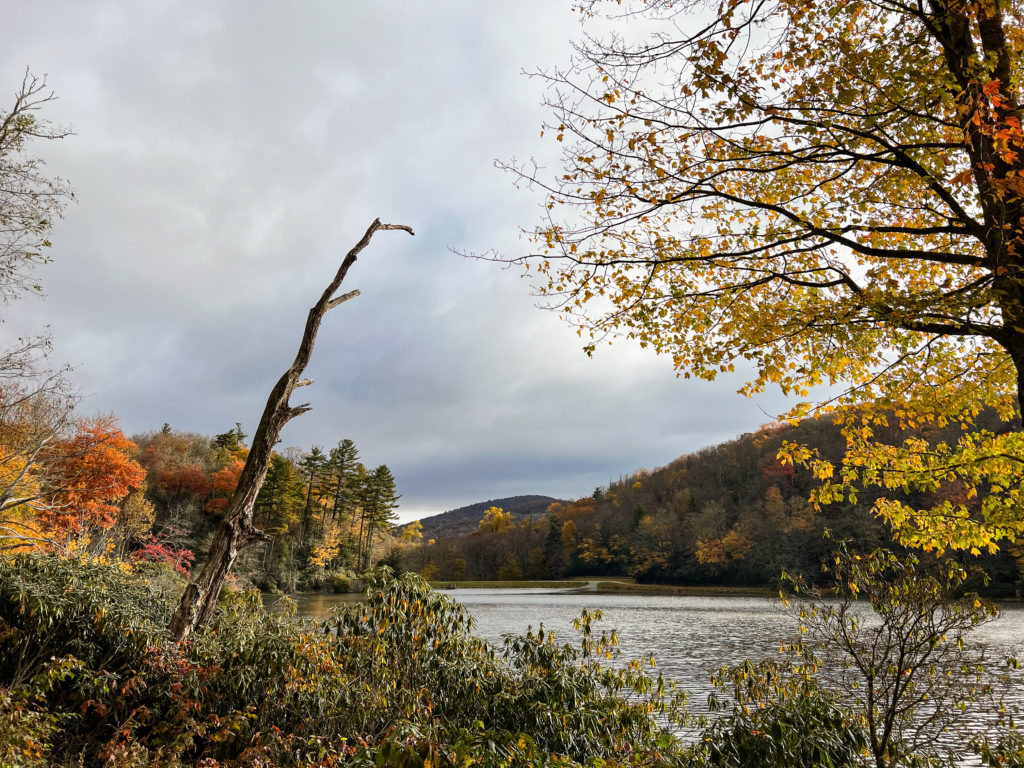 Trout Lake Loop Trail (2.7 mile loop)
The Trout Lake Loop Trail is a relaxed, gradual walk around Trout Lake. Similar to Bass Lake but a little more secluded, visitors to Trout Lake can enjoy fishing, hiking, or running while enjoying the beautiful views. Besides these fun activities, explorers of Trout Lake can enjoy walking through forests filled with ancient conifers, thickets of rhododendron, a diversity of flora and fauna, and lakeside leaf views in the fall.
The Trout Lake Loop Trail is only a 7 min drive from Chetola Resort or if you're feeling extra adventurous you can hike from Chetola to Bass Lake to the Manor House to Trout Lake which is about 7 miles round trip.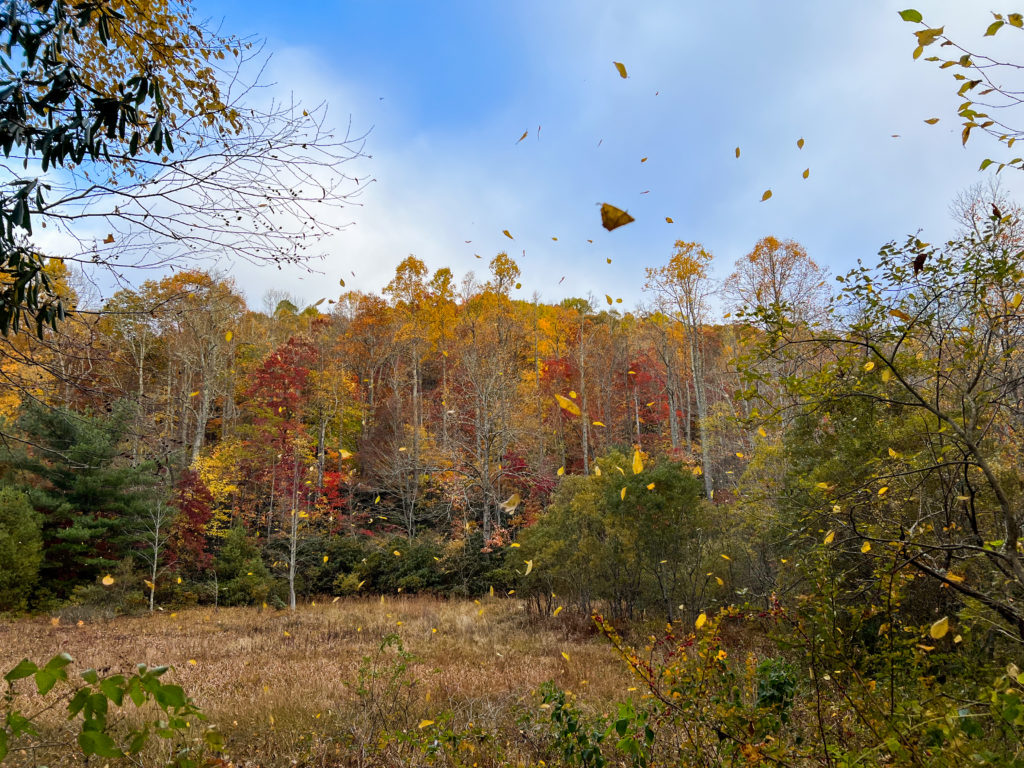 Cold Prong Pond Loop (0.5 mile loop)
What this hike lacks in panoramic views, it makes up for in low crowds, a relaxing walk, and unique flora and fauna. In the fall, the trees are covered in beautiful leaves and there are still a few flowers along the trail. The perfect spot for beginner hikers, those who need to stretch their legs, or those who love a good nature walk, Cold Prong Pond Loop is the perfect trail to step foot on.
If you continue along the trail, Cold Prong Pond Loop eventually meets up with the Tanawha Trail. So if you're looking for a longer adventure, you can always enjoy that trail for a few miles as well.  
No matter what kind of fall hiking adventure you're hoping to embark on during your next visit to Chetola, any or all of these hikes are the perfect escape to enjoy fall colors! We hope you'll join us soon at Chetola for colorful fall days and beautiful trails!
*Always hike at your own risk.
**Leave what you find. Do not pick, rip, or trample flowers or other flora. Take only photos.
***Please remember when exploring these beautiful trails to leave the area better than you found it so that others can enjoy its natural beauty.
For more information on how to responsibly recreate on the trails and across North Carolina visit https://www.visitnc.com/outdoornc