They say not to go chasing waterfalls, but when you're visiting an area like Blowing Rock or Chetola with 20+ waterfalls around you, it's impossible not to enjoy them. So we say grab your gear, pack accordingly, and go chase those High Country waterfalls. 
Though there are many waterfalls and trails to choose from in the area, our favorites to chase include: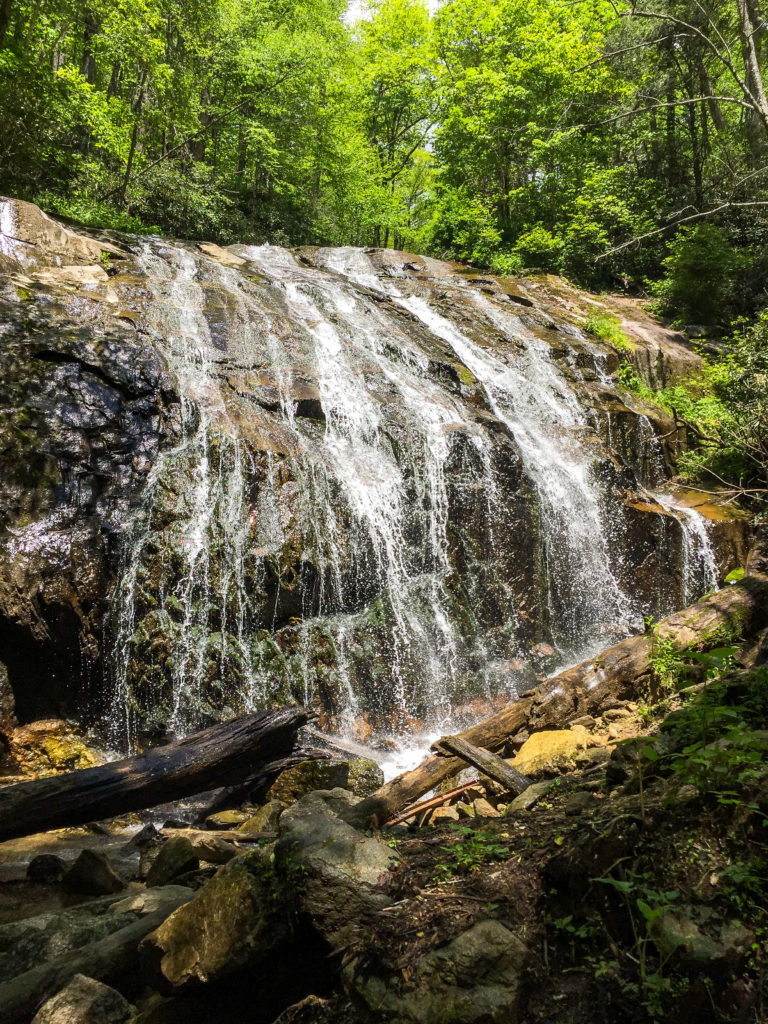 Glen Burney Falls (3.2 miles)
Located just 3 minutes from Chetola Resort, these beautiful falls are right in the heart of Downtown Blowing Rock. On this 3.2 mile out and back trail, enjoy views of Glen Marie Falls and Glen Burney Falls at the end of the trail. In addition to viewing the falls, at the beginning of the trail you can find remains of an old structure.
This trail is a favorite of Chetola guests and visitors because its location makes it a great adventure to experience before or after exploring downtown Blowing Rock. You can even walk from downtown to the trailhead for the falls! It's the perfect hidden gem, right in town!
Important Note: Though many spots list this trail as easy, it is more moderately challenging the further you go down the trail and is often slick and muddy. Please prepare accordingly.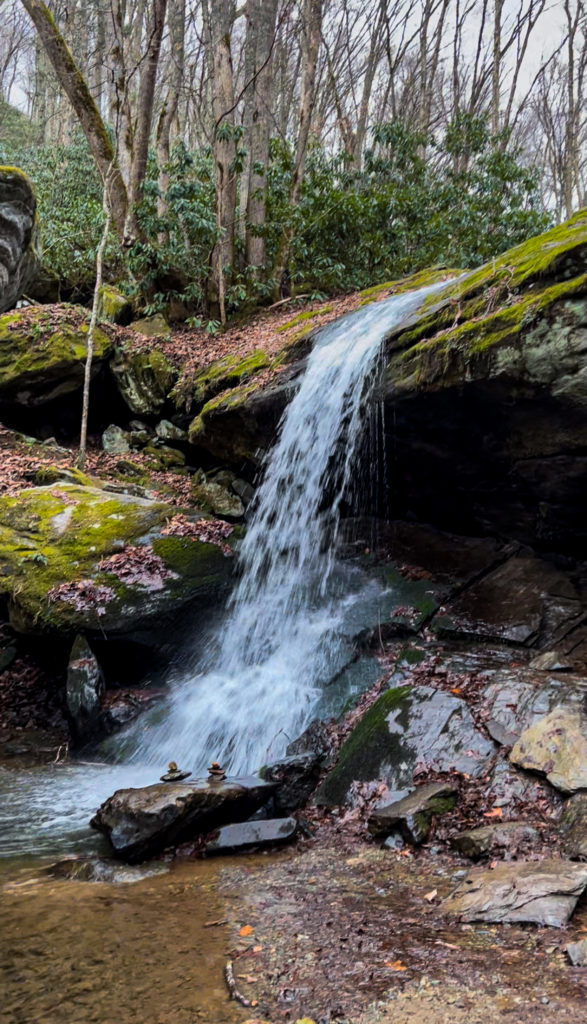 Otter Falls (0.9 miles)
Located just a short drive away in Seven Devils, NC, this short hike that is rated as moderately strenuous follows a beautifully forested trail as it descends 230 feet to Otter Falls. With 4 different colored trails, each exploring a different part of the forest, there is a nature walk in Seven Devils for everyone to enjoy! There are also observation decks for hikers to take in the views from the top of the falls as well as trails that lead to the bottom.
Visitors love this spot because the trek is less strenuous than some other waterfall hikes in the area, but Otter Falls is just as stunning as some of the bigger falls.
The trek to Otter Falls is rated as moderate and does descend about 230 feet towards the falls. Hiking boots or sturdy shoes are recommended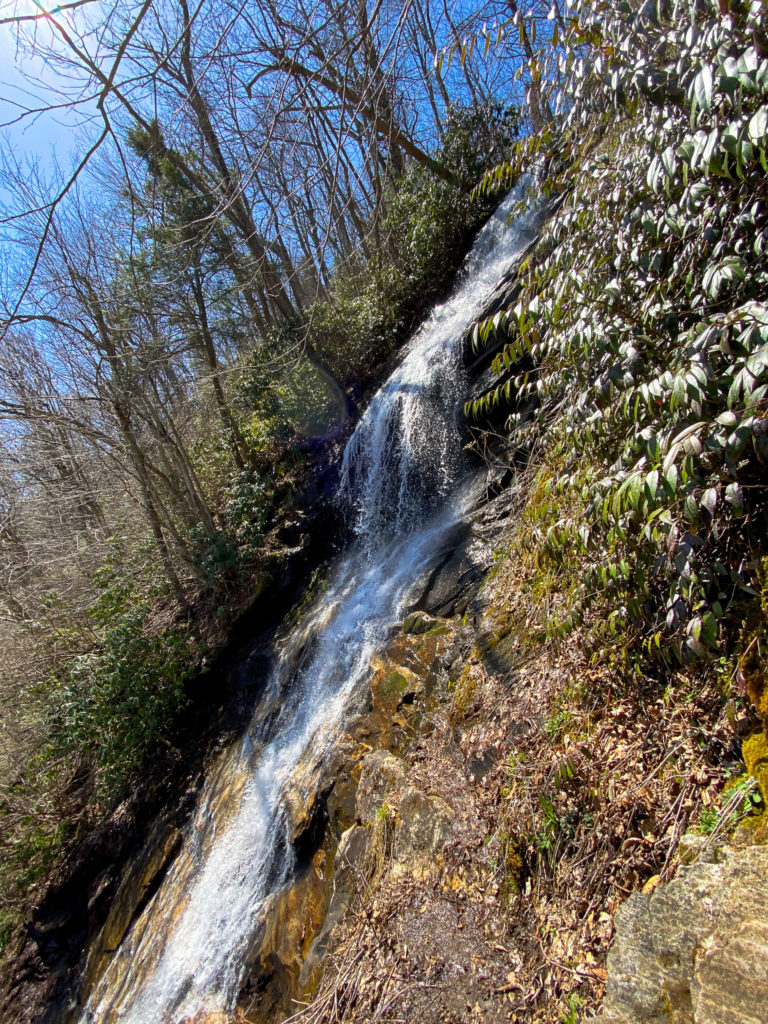 Cascades Trail (0.8 miles)
The Cascades Trail is an easy, 1-mile loop trail located at Milepost 271.9 along the Blue Ridge Parkway near Deep Gap, NC. This beautiful hike takes adventurers past views, gorgeous High Country plants and spring blooms, before reaching two overlooks that show off the falls. There is an upper and lower view of the falls, and both provide spectacular scenes. If you're looking for a shorter hike with great views and a waterfall in the middle, then this is the perfect trail to explore.
Important Note: Please do not climb on the falls or atop the stone walls. Both are very slippery and injuries have occurred.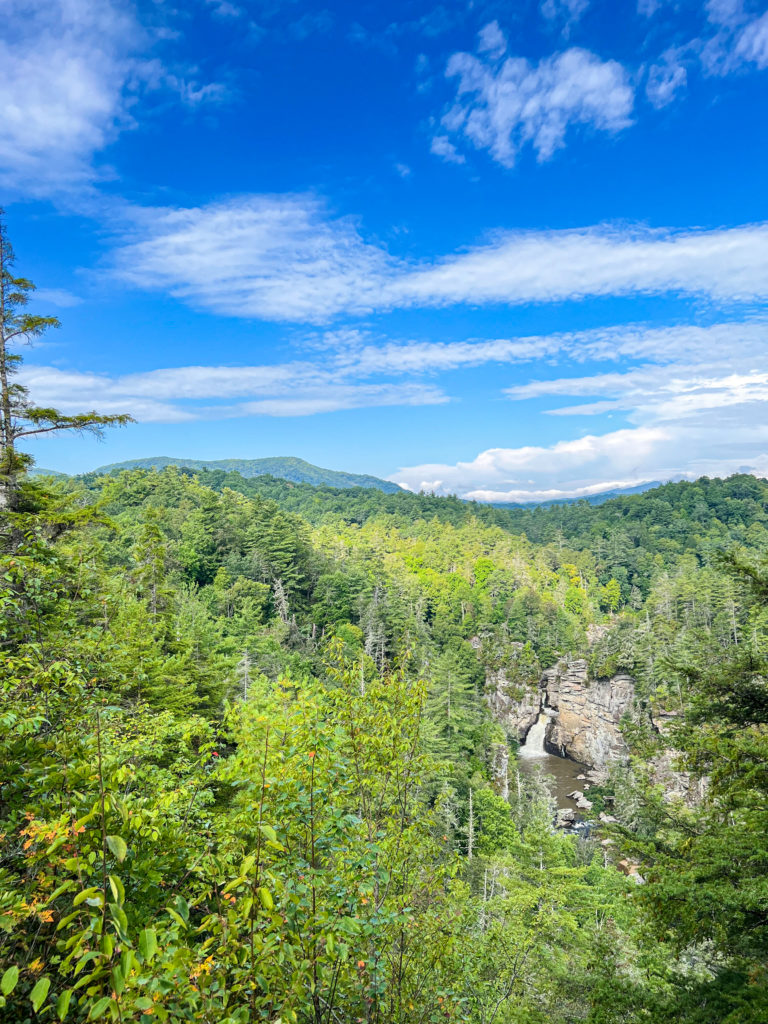 Linville Falls (distance varies)
Linville Falls is considered one of the area's most beautiful waterfalls. Located along the Blue Ridge Parkway and marking the beginning of the Linville Gorge, Linville Falls is an iconic waterfall and a must-see for all hiking enthusiasts. With 4 different trails and viewpoints of Linville Falls, there is a trail (and a view) for everyone's tastes. 3 of the trails are considered easy treks, while the 4th is considered as strenuous and only recommended for experienced hikers. 
Important Note: This hike can get extremely busy during the warmer months especially on weekends. Please plan to hike early in the morning or during the weekdays. Swimming in this area is extremely dangerous and not allowed. Please stay behind all signs and follow all rules. They are there to keep you safe from the falls. And remember to leave this area better than you found it.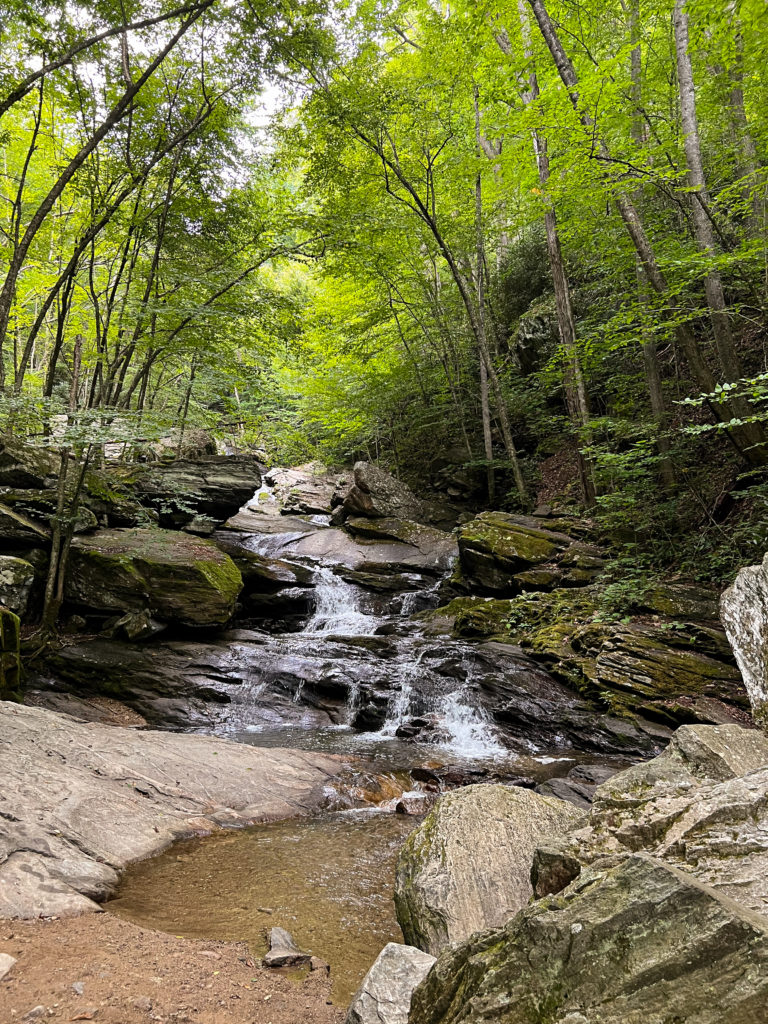 Crab Orchard Falls (1.4 miles)
The 1.4 mile trek to Crab Orchard Falls is a moderate, uphill trek that leads to small water pools and beautiful cascading waterfalls. Winding up through forested areas, with tall trees, and wonderful nature sounds, this hike is worth the uphill climb to enjoy the views beyond. And since what goes up, must come down, enjoy a gradual downhill all the way back to your vehicle as you enjoy the hike back.
Important Note: The wooden bridge to Crab Orchard Falls can be slick. Use caution when walking this part of the trail.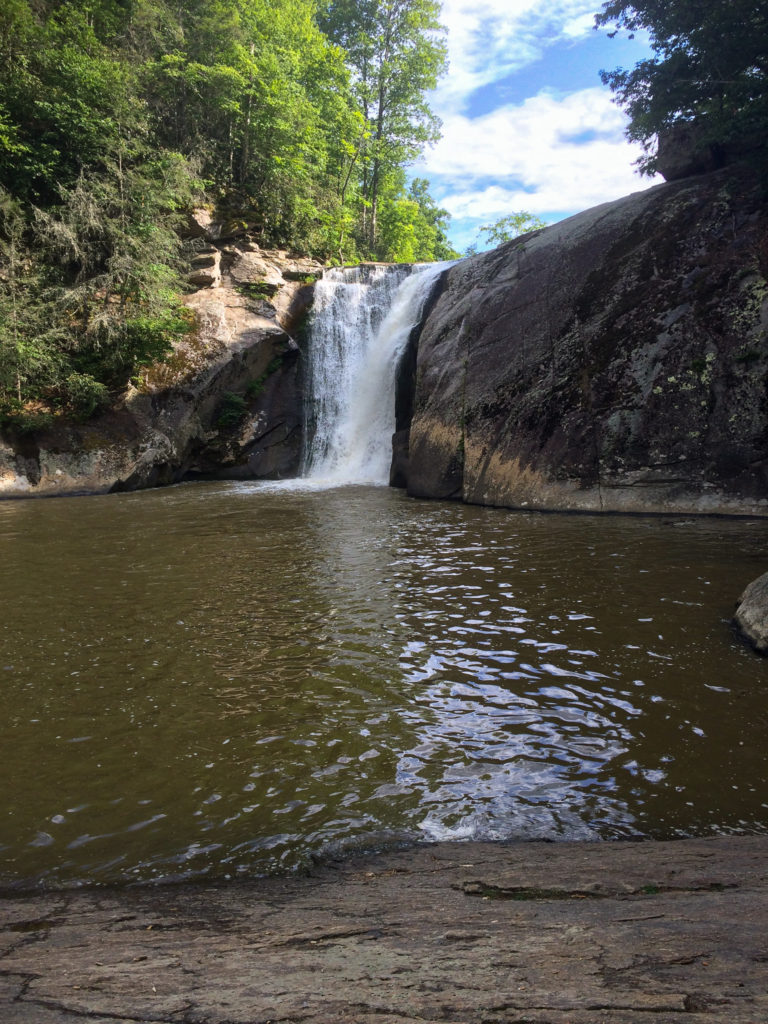 Elk River Falls (0.8 miles)
Located just past Banner Elk in the town of Elk Park, the Elk River Falls trail provides a spectacular view of a 50 ft waterfall after a short hike. Follow the trail sign for "Big Falls" for an easy ¼ of a mile walk and you will find yourself at the top of the falls. Take in the views of the water tumbling down and then continue down the trail for another ¼ mile (this last part is a little steeper) and you'll find yourself at the base of the falls. At the base, there is a big, flat rock where many sit to enjoy the views or take a picnic (we highly recommend a to-go meal from Timberlake's). Many people also take the opportunity to swim in this spot, but please read the notes below about safety precautions at Elk River Falls.
Hiking boots or sturdy shoes are recommended.
*Important Note: Although swimming is allowed at the pools below the falls, you should NOT swim near the base of the falls or at the top of the falls. The currents are too strong for wading in these spots and can be deadly. You should also not jump from the top of the falls.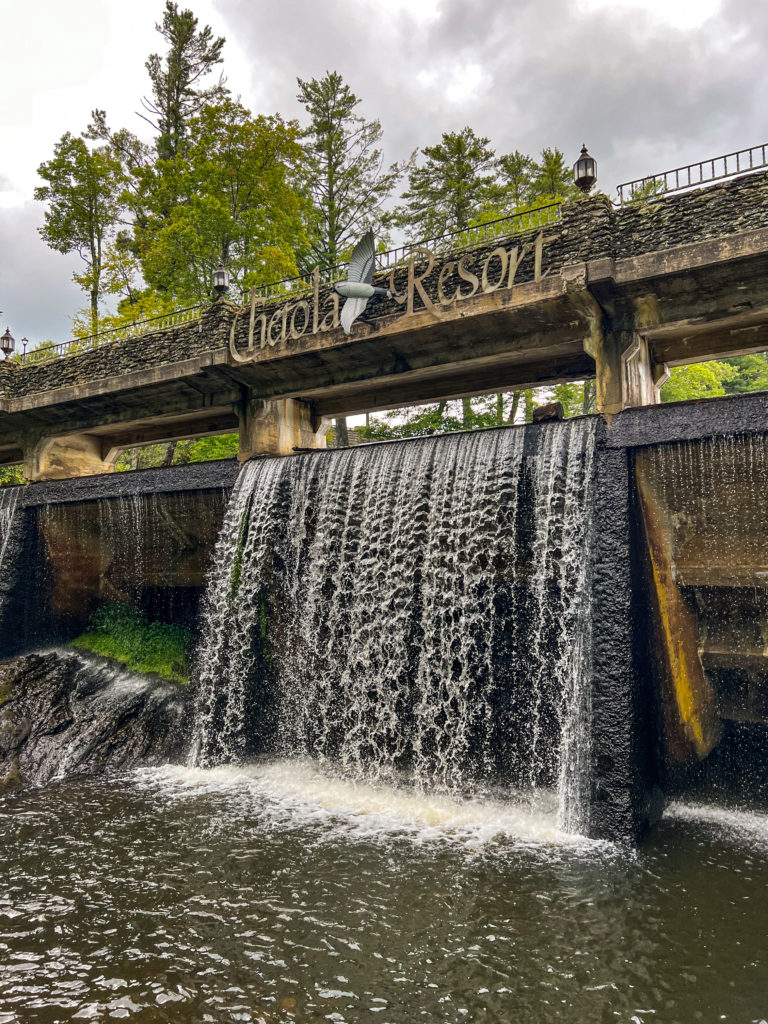 Bonus: Chetola Dam (0.4 miles from Chetola Lodge)
Though not necessarily a true waterfall, the Chetola Dam is a hidden gem that not many people know about. Historically, the original entrance to Chetola Resort, the dam now serves as a beautiful spot to enjoy the view, picnic, fish, and take a little trip back in history. This spot can be accessed by guests of the resort.
We can't wait for you to chase waterfalls on your next getaway to Chetola Resort!
For the best experience while waterfall hiking, here are a few extra tips for hiking to see these spectacular spots:
Follow Outdoor NC's 7 principles for recreating in the North Carolina
Check the weather! Know what conditions will look like during the day.
Wear sturdy shoes. Many trails can be slick and muddy during all seasons.
Bring water and stay hydrated.
Be safe and have fun out there!
*Please be sure that when exploring you leave the waterfalls and the surrounding areas better than you found them. Please pick up all trash, leave only footprints, take nothing but photos and follow OutdoorNC's seven principles for recreating in North Carolina. Find the seven principles by visiting https://www.visitnc.com/outdoornc