This information is very important! Please read the text below before visiting The Chetola Sporting Reserve. By simply Googling Chetola Sporting Reserve, it may lead you to Chetola Resort and NOT the Range. Please carefully read the following instructions to navigate to us. 
To Navigate to the CSR, Please use your map of choice below:
https://goo.gl/maps/WC5ijVbU7ZcwP66V8 - Google Maps
https://maps.apple.com/place?ll=36.143009,-81.567679&q=Dropped%20Pin&t=m - Apple Maps
TO SPORTING RESERVE VIA BLUE RIDGE PARKWAY
From Chetola Resort, turn LEFT onto MAIN ST. (proceed for .3 miles)
• LEFT onto HWY 321 at light (proceed for .9 miles)
• RIGHT onto BLUE RIDGE PARKWAY entrance ramp (proceed for .1 miles)
• LEFT onto the BLUE RIDGE PARKWAY NORTH (proceed 3.7 miles)
• RIGHT on SAMPSON ROAD (proceed for 3.7 miles)
• Pavement Turns to Gravel (Proceed .3 miles)
• LEFT onto HORTON CREEK TRAIL (proceed .5mi to CSR)To SPORTING RESERVE VIA AHO RD (during winter season when parkway is closed)
• From Chetola Resort, turn LEFT onto MAIN ST. (proceed for .3 miles)
• LEFT onto HWY 321 at light (proceed for 1.9 miles)
• RIGHT onto AHO ROAD (proceed for 2.4 miles)
• RIGHT on Blue Ridge Parkway (proceed for .1 miles)
• LEFT on SAMPSON ROAD (proceed for 3.7 miles)
• Pavement Turns to Gravel (Proceed .3 miles)
• LEFT onto HORTON CREEK TRAIL (proceed .5mi to CSR)
Please arrive 10 minutes before your shooting reservation to sign in and go over safety. Guests may bring their own firearms; however, guests of the range (non-members) must use club ammunition. Please reply to this email and inform your reservationist or CSR staff if you or a guest in your party are bringing a firearm and what gauges or caliber is required for those firearms so we may have the correct ammunition in stock. Chetola Guests may store unloaded and locked firearms in Chetola Resort rooms while they are staying on property.
Cancellation Policy: You must contact us 7 days prior to your reservation by emailing us at sportingreserve@chetola.com or calling us at 828-264-6200 in order to get a full refund on your deposit. Should it be less than 7 days, then you will forfeit your deposit. If booking within 7 days of your shoot date, a cancellation will also result in the forfeit of your deposit. We shoot in the rain or shine, any inclement weather that may result in unsafe shooting conditions will be canceled by the CSR via a phone call or an email to the guest.
We look forward to having you out at the Chetola Sporting Reserve!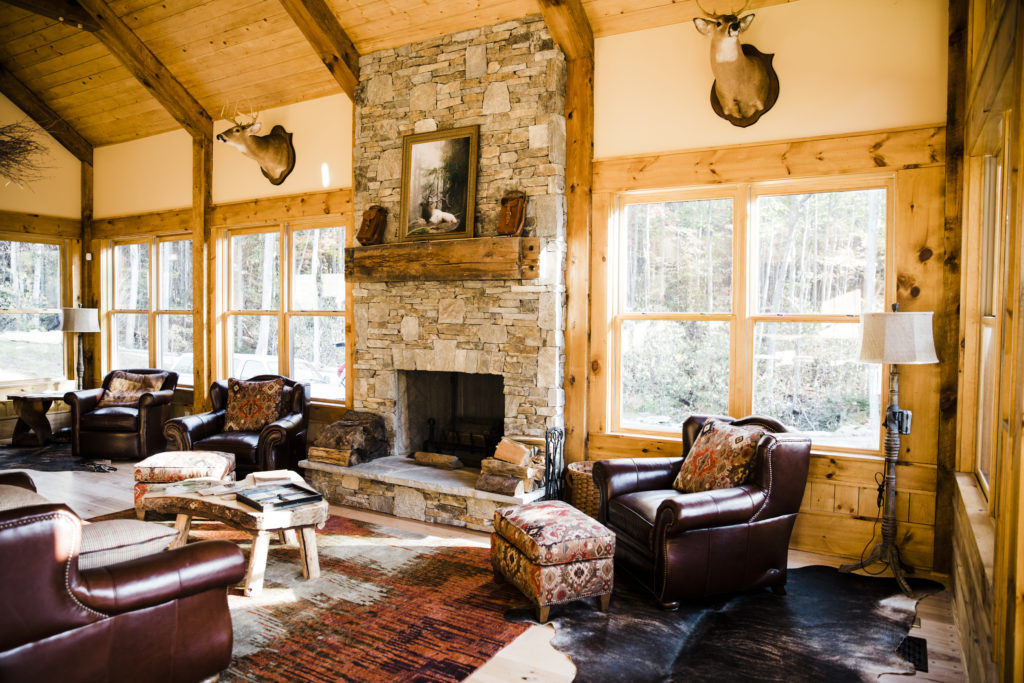 PLEASE ENSURE ALL MEMBERS OF YOUR PARTY HAVE READ THE RANGE RULES AND REGULATIONS
ALWAYS KEEP THE FIREARM POINTED IN A SAFE DIRECTION.
ALWAYS KEEP YOUR FINGER OFF THE TRIGGER UNTIL READY TO SHOOT, and outside the trigger guard, until ready to fire.
ALWAYS KEEP YOUR ACTION OPEN AND FIREARM UNLOADED UNTIL READY TO USE. On a firing range this means the shooters are in position on the firing line and the range has been cleared for live firing.
BE SURE ANY FIREARMS YOU BRING IS SAFE TO OPERATE.
KNOW HOW TO USE THE FIREARM SAFELY. Read your manual prior to the first time operating
USE ONLY THE CORRECT AMMUNITION FOR YOUR FIREARM. When at a shooting range with more than one firearm, use one at a time and when finished, store that firearm and its ammunition before using the next one.
WEAR EAR AND EYE PROTECTION AT ALL TIMES ON A "LIVE" RANGE
NEVER USE ALCOHOL OR DRUGS BEFORE OR WHILE SHOOTING.
STORE GUNS SO THEY ARE NOT ACCESSIBLE TO UNAUTHORIZED PERSONS. 
KNOW AND OBEY ALL RANGE COMMANDS.
SHOOT ONLY AT AUTHORIZED TARGETS.
OPEN, UNLOAD, AND BENCH OR GROUND ALL FIREARMS DURING CEASE FIRES.
DO NOT HANDLE FIREARMS OR STAND AT THE FIRING LINE WHEN OTHERS ARE DOWNRANGE.
ONLY THOSE FIREARMS AUTHORIZED ON A GIVEN RANGE FACILITY ARE ALLOWED.
ALL FIRING MUST BE DONE FROM DESIGNATED FIRING LINES OR POSITIONS.
Release OR Binary Triggers must be approved by the CRSO to be used on any given range.
In the event of a misfire, when a live round remains in the firearm, the shooter must keep the firearm pointed in a safe direction for 45 seconds in case of a hangfire. After 45 seconds the firearms may be cleared.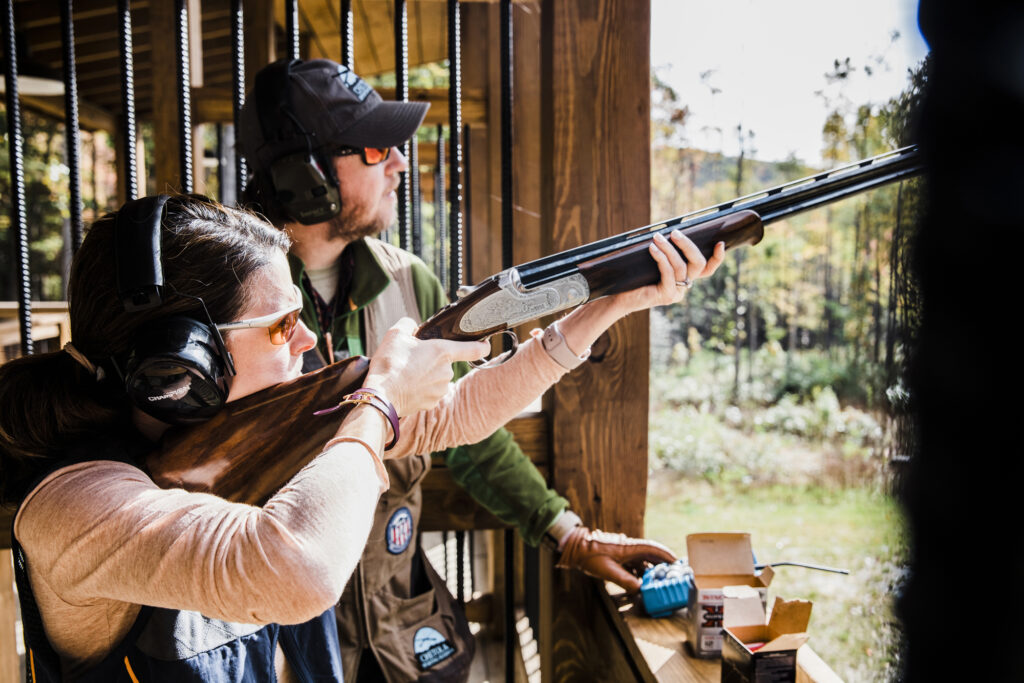 DEFINITIONS FOR RANGE USE
Chief Range Safety Officer (CRSO)- The Chief Range Safety Officer is the immediate supervisor of the range on any given day.
Range Safety Officer (RSO)­– The Range Safety Officer(s) report directly to the CRSO
Trapper– The Trapper(s) report directly to the CRSO & RSO's. Their duty is to launch clay targets on a station on the Sporting Clays Course or 5-Stand they are operating. Trappers also keep an extra eye out for safety.
Action– The "working mechanism" of a firearm that loads, fires, extracts and ejects a spent cartridge, and in some instances, reloads a new cartridge.
Muzzle– The forward end of a barrel, where the projectile exits.
Misfire– Failure of a cartridge to discharge after the firearm's firing pin has struck the primer. In the event of a misfire, hold the firearm securely down range for 30 seconds to ensure of a hangfire.
Hangfire– A delay in the discharge of the cartridge.
Squib Load– The reduced of normal pressure behind any given cartridge. In the event of a Squib Load, always check your barrel for any obstructions before firing another shot.
Breech – The rear end of the barrel. In modern arms, the portion of the barrel into which the cartridge is inserted.
Bullet – A single projectile fired from a firearm.
Cartridge – A self-contained unitized round of ammunition that is made up of a case, a primer, powder, and a bullet. The case is usually made from brass but may be steel, metal alloy, or plastic.
Chamber – The enlarged portion of the barrel at the breech in which the cartridge is placed ready for firing.
Firearm – A term used to describe any gun, usually small, from which a bullet is propelled by means of hot gasses generated by burning powder.
Firing Line – A line parallel to the targets from where firearms are discharged.
Firing Position – An area directly behind the firing line having a specified width and depth that is occupied by a shooter, his equipment and, if appropriate, an instructor or coach.
Muzzleloader – Any of a number of firearms designed to be loaded from the muzzle end of the firearm or barrel.
Pistol – A firearm capable of being held, aimed and fired with one hand. Also known as a revolver or a handgun.
Plinking – Informal shooting at any of a variety of steel targets.
Rifle – A modern firearm designed to be fired from the shoulder generally having a barrel more than 16 inches long. Its main characteristic is a rifled barrel that imparts a spin to a single projectile as it travels through the bore.
Rimfire – A cartridge ignited by priming compound distributed around the inside of its rim.
Shotgun ­– A firearm designed to be fired from the shoulder with a smoothbore barrel that fires shotshells possessing a varying number of round pellets.
Shotshell – A cartridge, designed to be used in shotguns. A unitized round of ammunition is comprised of a hull or shell, a primer, powder, shot cup or wad, and shot. Shells are normally constructed from plastic or paper.
Target Line – A line parallel to the firing line along which targets are placed.