Though there's no bad season to go hiking in the High Country, spring is at the top of our list to get outside and explore. The warmer weather, colorful blooms, and an abundance of trails makes this season the perfect one to adventure in. If you're ready to head on a spring adventure, here are a few of our favorite spots around the area to explore.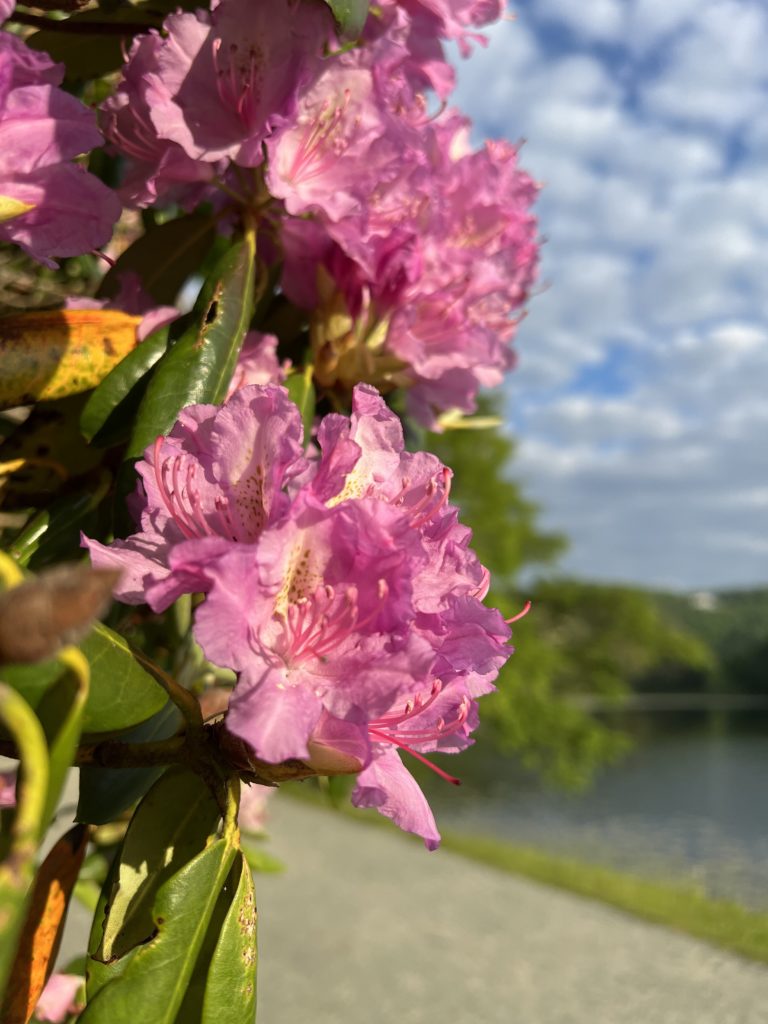 Chetola Resort Bass Lake TRACK Trail
The Chetola Resort Bass Lake TRACK Trail is a 1.8 mile loop that takes hikers down a forested gravel trail and then around Bass Lake. Except for the hill from the parking area to the main trail, this hike is relatively flat and accessible for all abilities of hikers. Along the trail enjoy views of nature critters, high country plants & flowers, horses, Bass Lake, and the Moses Cone Manor up on the hill. The perfect hike for all explorers, the Bass Lake TRACK Trail is a must do on your next visit to Chetola Resort.  And if you're feeling extra adventurous, the Moses Cone Trail system has 25+ miles of trails to wander and explore.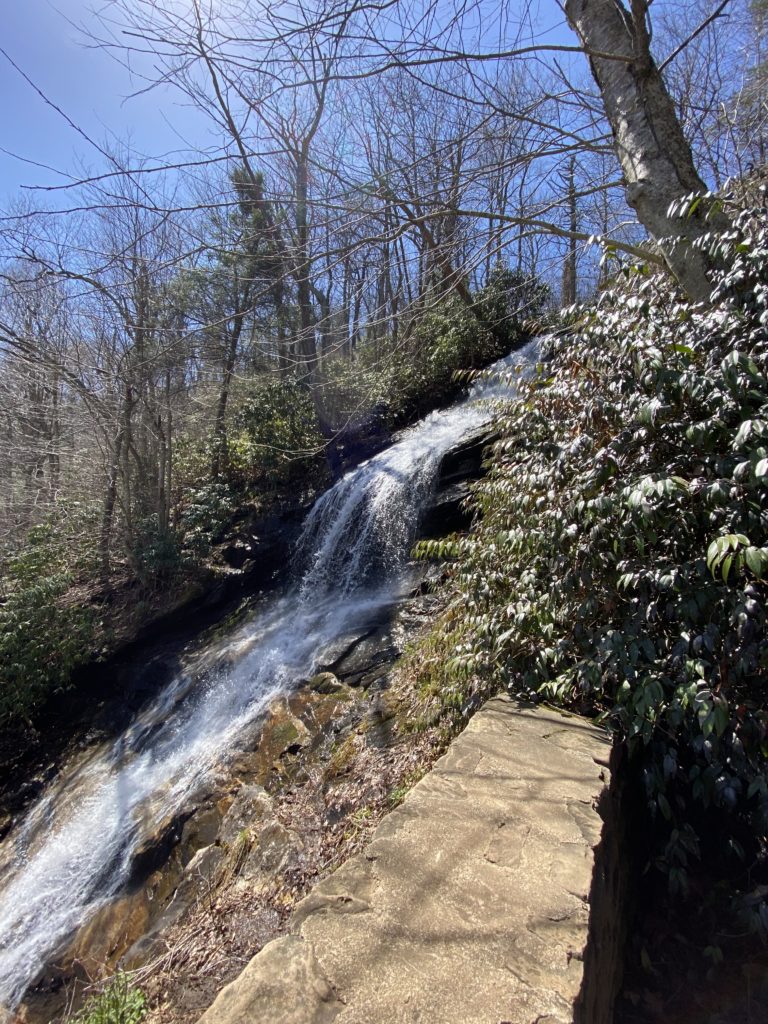 Cascades Trail
The Cascades Trail is an easy, 1-mile loop trail located Milepost 271.9 along the Blue Ridge Parkway near Deep Gap, NC. This beautiful hike takes adventurers past views, gorgeous High Country plants and spring blooms, before reaching two overlooks that show off the falls. There is an upper and lower view of the falls, and both provide spectacular scenes. If you're looking for a shorter hike with great views and a waterfall in the middle, then this is the perfect trail to explore.
Important Note: Please do not climb on the falls or atop the stone walls. Both are very slippery and injuries have occurred.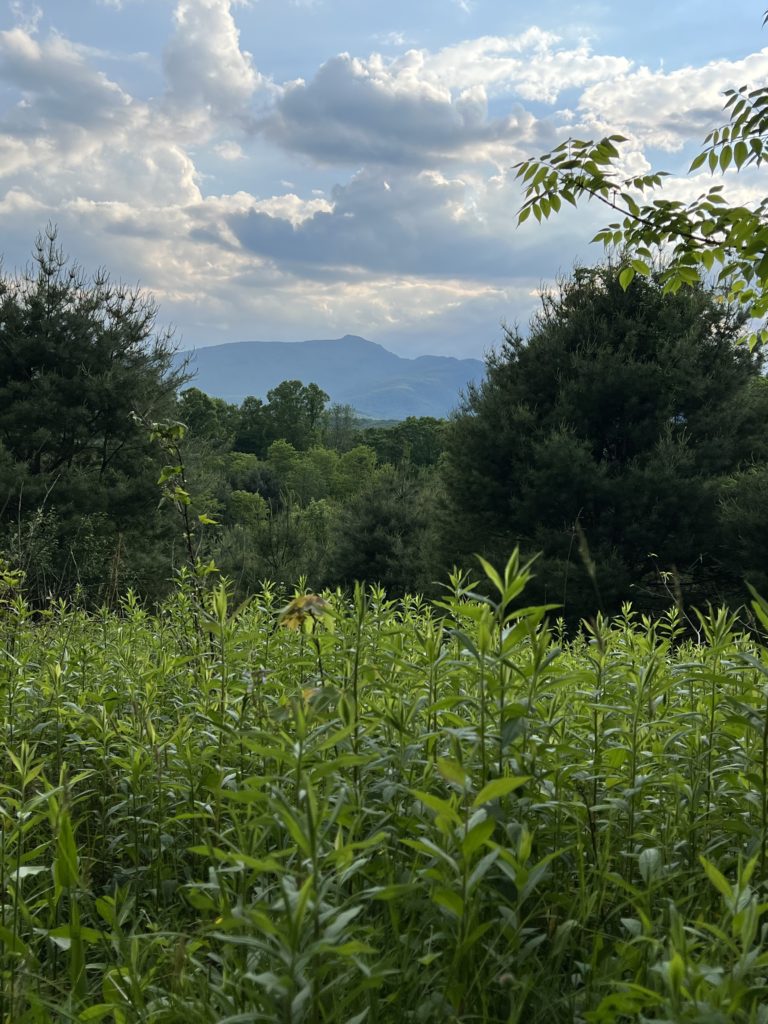 Green Knob Trail
The Green Knob Trail is a moderate, 2.3 mile loop located at Milepost 295.9 along the Blue Ridge Parkway near Blowing Rock, NC. This adventure takes hikers through a forested area, past mountain streams and Sim's Pond, under the Parkway, through cow fields filled with flowers (and sometimes butterflies) and then back through the forest to where you began.  Whether you enjoy mountain views, blooms, a beautiful trail, or the potential to see cows, this a great trail to explore on your next visit to Chetola.
Important Note: If you encounter cows, please keep your distance and stay on the trails.
Boone Fork Trail
The Boone Fork Trail is a moderate (but can be strenuous in spots), 5.2 mile loop located at the Price Lake Picnic Area at Milepost 296.4 along the Blue Ridge Parkway near Blowing Rock, NC. This trail is a favorite of locals and visitors alike. It follows Boone Fork Creek for the first few miles through the forest before it leads to Hebron Falls. The trail then continues through the forest over rocks, through fields, showing off views of Grandfather Mountain before it leads you back through the forest to where you started.
No matter what kind of outdoor adventure you're hoping to embark on during your next visit to Chetola, any or all of these hikes are part of the perfect escape into the outdoors. We hope you'll join us soon at Chetola for beautiful blooms and epic trails!
*Always hike at your own risk.
**Leave what you find. Do not pick, rip, or trample flowers. Take only photos.
***Please remember when exploring these beautiful trails to leave the area better than you found it so that others can enjoy it's natural beauty.